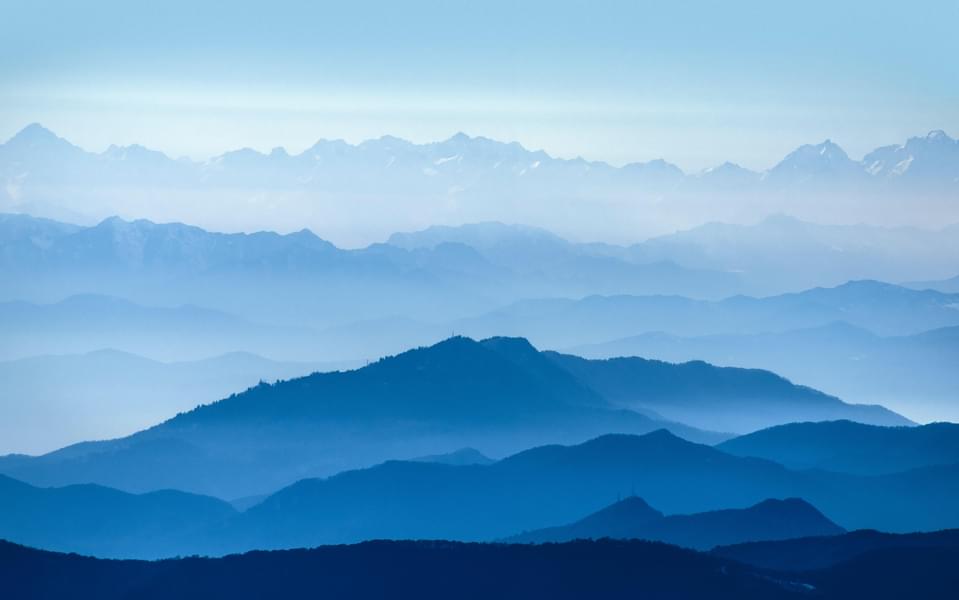 Under the lead of its Gender Working Group, the Multi-Faith Advisory Council (MFAC) to the United Nations, which SGI joined in 2021, organized an official side event of the High-Level Political Forum (HLPF). The event was co-sponsored by the United Nations Population Fund (UNFPA), the UN Alliance of Civilizations and the UN Office of Genocide Prevention and the Responsibility to Protect. "Dispelling Misconceptions and Myths: Faith Actors Advancing Gender Equality and the Empowerment of Women and Girls" addressed three of the Sustainable Development Goals (SDGs) being reviewed at the 2022 HLPF: gender equality, partnerships for the goals and quality education.
In her opening statement, Casey Harden, General Secretary of World YWCA, laid the foundational concept behind the event by noting that 84% of the global population identifies with a spiritual tradition, religion or belief group. "Religious language rooted in human rights framing has historically proven to be a source of non-violent transformation, in the defense of human rights, equality, integrity in government and reconciliation and stability in divided societies." Harden said. Following Harden's introduction, Ivy Koek of SGI hosted a panel discussion.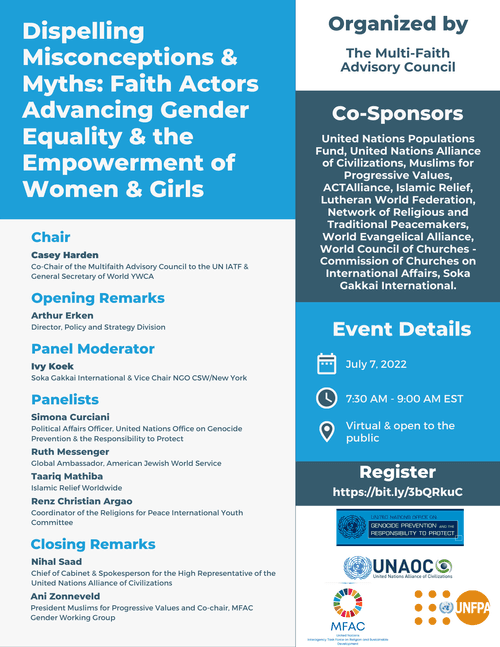 Panelists presented various examples to counter the widespread assumption that faith actors perpetuate gender inequality, demonstrating that they are, in fact, striving to accomplish the opposite. Arthur Erken, Director of Policy and Strategy Division of UNFPA, started by sharing an alarming observation—that the world is not on track to achieve gender equality by 2030. Ruth Messenger, a Global Ambassador for the American Jewish World Service, showed the power faith organizations have to inspire societal action by citing the critical role faith leaders played in changing traditional practices to help stop the spread of the Ebola virus. Simona Cruciani, Political Affairs Officer of the UN Office on Genocide Prevention and the Responsibility to Protect spoke on changes she has seen at the UN on engaging faith actors in gender equality, observing that many at the UN previously did not want to work on religious issues, as it is a secular institution. More recently, Cruciani has seen the UN engaging more with religious actors, although gender equality issues still have their challenges. During his presentation, Renz Argao, Coordinator of Religions for Peace International Youth Committee, shared a toolkit for religious communities to end violence against women. The toolkit was one of several resources shared during the event.
The panel was followed by a question and answer session, during which Erken highlighted two questions that came from young women who shared their disillusionment based on experiences with religious leaders. He cautioned that faith organizations cannot ignore these experiences, which point to remaining instances of discrimination based on gender. Ani Zonneveld, President of Muslims for Progressive Values and Co-chair of the MFAC Gender Working Group, reiterated this point in her closing.