SGI was one of seven faith-based partners including ACT Alliance, World Council of Churches, Islamic Relief USA, Seventh-Day Adventist Church, The United Methodist Church, United Religions Initiative (URI), together with UN Women and the UN Population Fund (UNFPA) who co-organized the 7th annual symposium on the Role of Religion and Faith-based Organizations in International Affairs. This year's theme was: "2021: A Defining Year for Accelerating Gender Equality, Equity and Justice." This half-day online symposium attracted a more diverse range of participants than previous years, with more than 400 people attending.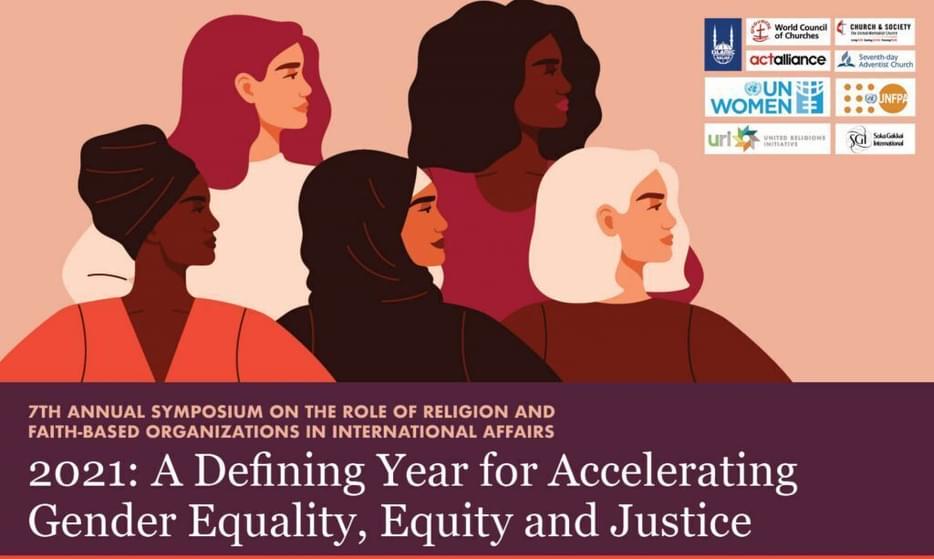 The symposium, held on 26 January, consisted of four sessions with a high-level opening by Phumzile Mlambo-Ngcuka, Executive Director, UN Women; Alice Nderitu, UN Special Advisor on the Prevention of Genocide; Ib Petersen, Deputy Executive Director, Management of the UNFPA; Anwar Khan, President, Islamic Relief USA; Kiran Bali, Chair, URI Global Council of Trustees; Rudelmar Bueno de Faria, General Secretary, ACT Alliance.
Ivy Koek of SGI moderated the "Women Advancing Peace and Security" session consisting of representatives from the UN Development Programme (UNDP), feminist and faith-based organizations. Just days earlier the landmark Treaty on the Prohibition of Nuclear Weapons (TPNW) entered into force making it a timely opportunity to highlight the pivotal role of women. This is a treaty driven by the leadership of women and the first international nuclear weapons treaty to mention the disproportionate impacts nuclear weapons have on women and girls. As de Faria noted: "It is crucial to work with religious leaders and actors to promote a transformative faith approach, which reshapes structures and organizations to push back the pushback on gender justice." Symposium participant documents and video from the event can be found here.