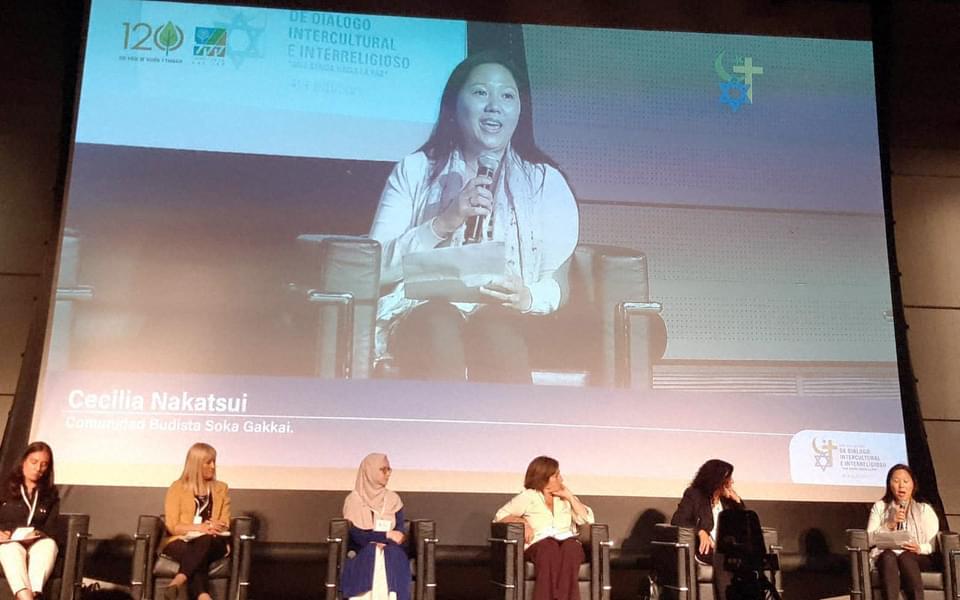 On 3 November 2021 in Buenos Aires, Cecilia Nakatsui of SGI-Argentina (SGIAR) joined a panel discussion on women and religion at the 4th World Congress on Intercultural and Interreligious Dialogue, titled "A Path to Peace." From the perspective of their respective religious organizations, six panelists spoke on the role of women in peace efforts. The session was moderated by Nancy Falcón, Executive Director of the Alba Intercultural Dialogue Center in Buenos Aires.
Sharing the Buddhist perspective, Nakatsui of SGIAR discussed the role of women in generating hope and being protagonists for peace. She also showed a video that highlighted the contributions of the women of SGIAR, including the establishment of the Women's Peace Committee in 2007 to promote women's participation and empowerment, and the opening of the Soka Women's Peace Center in 2016 to support SDG Goal 5 on Gender Equality. The video stressed that the activities carried out by the women of the Soka Gakkai are intended to foster encounters and dialogues around peace on the basis of respect for the dignity of life and with conviction in the unlimited potential of women as builders of a society of peace, justice and equality. Clips from the "Treasure the Connection" video series that highlight Soka Gakkai women around the world who are contributing to peace were also shown.
Other panelists emphasized the importance of women's empowerment in overcoming contemporary gender issues. Rabina Lic. Silvina Chemen of the Jewish congregation Comunidad Bet El encouraged the audience to pay attention to women's voices in sacred texts and to strive to leave a better, more gender-equal society for the next generation. Laura Gómez, a Baptist pastor and board member of the Christian Alliance of Evangelical Churches in Argentina, shared her belief that women play an important role in changing the environment wherever they are. María Eugenia Crespo, Director of Members Support for the United Religions Initiative, stressed the importance of cooperation between men and women.