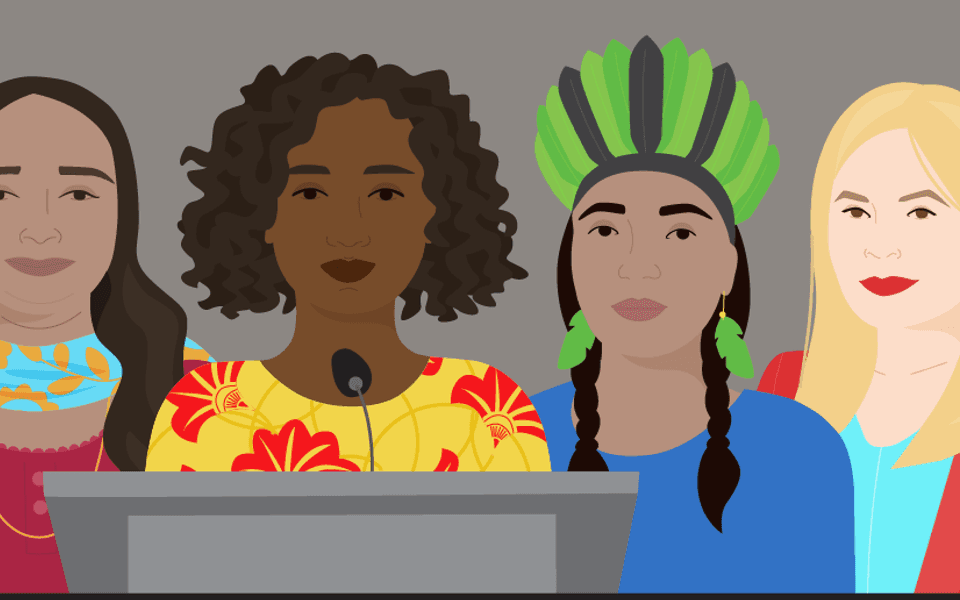 SGI participated in the 65th Session of the Commission on the Status of Women (CSW65) from 15 to 26 March. The NGO CSW65 Virtual Forum gathered over 27,000 registrants with over 700 parallel events, while the UN's official CSW session had 9,000 registrants with over 100 side events. Based on the CSW65 priority theme: "Women's full and effective participation and decision-making in public life, as well as the elimination of violence, for achieving gender equality and the empowerment of all women and girls," SGI co-organized two virtual parallel events.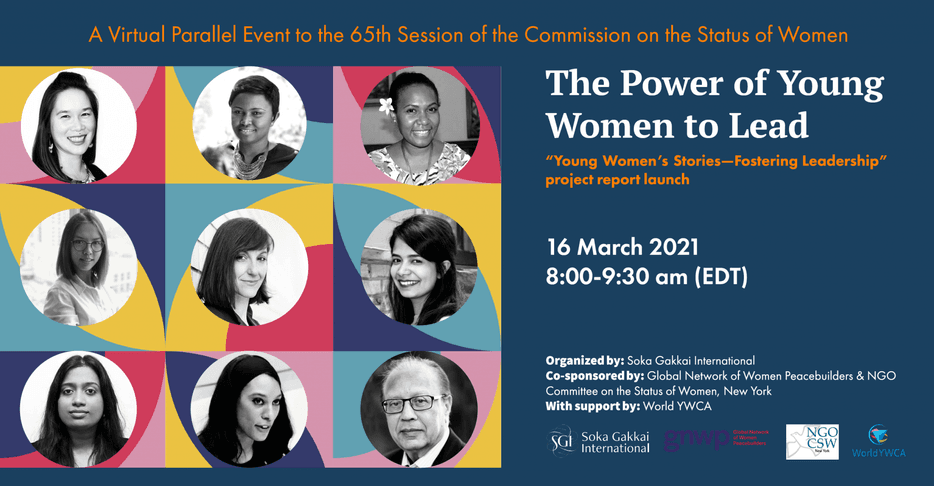 On 16 March, "The Power of Young Women to Lead" event was moderated by SGI's Ivy Koek and attended by over 175 participants. The event was co-sponsored by the Global Network of Women Peacebuilders and NGO CSW/NY with the support of the World YWCA. At the event, SGI launched its report on the "Young Women's Stories—Fostering Leadership" project.
Verlaine-Diane Soobroydoo, Global and Africa Strategic Priorities from the UN Women Executive Office gave opening words, encouraging young women to stand up and tap into their inner power. After personal accounts from two project participants, Naomi Woyengu from the World YWCA, Papua New Guinea, and Trinna Leong from Soka Gakkai Malaysia, a presentation of the project was given by the report author, Dr. Kristen Ali Eglinton, Executive Director of Footage Foundation. Findings from the report, which analyzed the stories of 15 young women, highlighted the shared qualities of their leadership as courage, service, mission or purpose, compassion (including empathy), self-awareness, and grit. These qualities exemplify what is referred to as "21st-century leadership," which is vitally needed today more than ever.
In his closing remarks, Ambassador Anwarul K. Chowdhury, Former Under-Secretary General, High Representative of the United Nations, and initiator of the precursor decision leading to UN Security Council Resolution 1325 as the Security Council President in March 2000, emphasized that the feminist movement benefits the whole of humanity and brings security and safety to the world.
On 18 March, "In Dialogue with Faith and Rights for Gender Equality" event was held and moderated by Koek of SGI. Seven speakers showcased various partnerships and collaborations among faith actors and faith-based organizations and secular feminist organizations to address women's leadership in the context of Sexual and Gender Based Violence and Sexual and Reproductive Health and Rights. The opening address was given by Rt Revd Dom Maurício Andrade, Bishop of Brasilia.
The event was co-sponsored with ACT Alliance, FEMNET, the Network for Religious and Traditional Peacemakers, Sexual Violence Research Initiative, International Planned Parenthood Federation Western Hemisphere Region (IPPFWHR), Islamic Relief Worldwide, and Red de Salud.