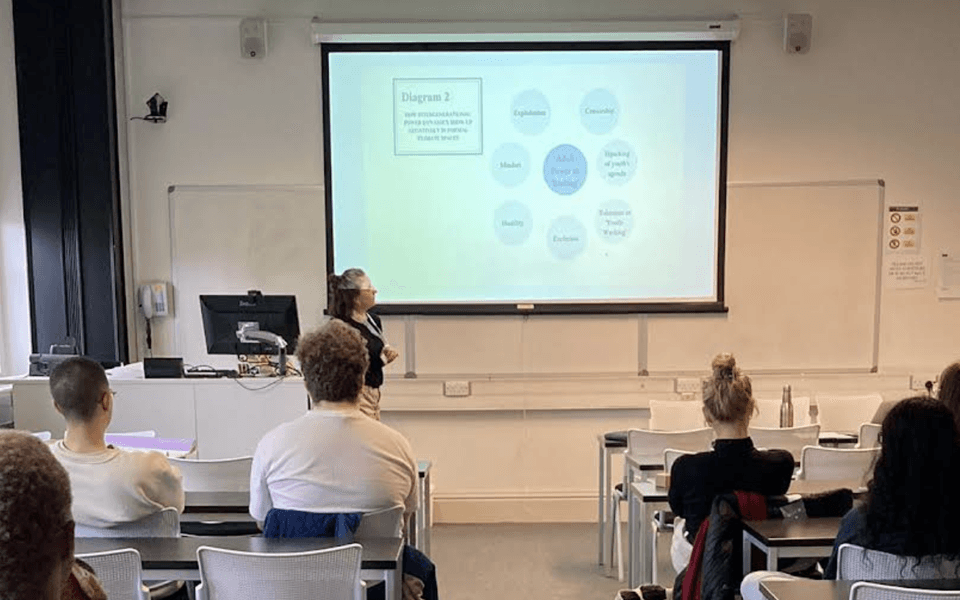 Lucy Plummer, SGI-UK Youth Engagement Coordinator, led a workshop on youth participation and communication skills related to climate action at the UK's Local Conference of Youth (LCOY UK 2022), which was held at the University of Manchester on 22 October 2022.

Local Conferences of Youth (LCOYs) are endorsed by the United Nations and aim to give young people a voice in the global response to climate change. These meetings are held in countries across the world each year in the weeks leading to the United Nations Framework Convention on Climate Change (UNFCCC) Conference of the Parties (COP) meetings and are an opportunity for young people to contribute to a Youth Climate Statement. A national representative from each LCOY brings these statements to the main Conference of Youth (COY), which usually takes place in the days preceding the UNFCCC COP. At COY, the representatives prepare a collective Global Youth Statement that encompasses the demands of the world's young people that will be presented to world leaders and decision-makers at COP.
The LCOY UK 2022 was entirely planned and organized by young people. Guest speakers included Jamie Agombar, Executive Director at Students Organizing for Sustainability UK (SOS-UK), and an academic expert on the psychology of climate anxiety. Keynote speeches were delivered by two youth activists, Mahnoor Kamran, an 18-year-old Pakistani climate justice advocate, and Jodie Bailey-Ho, an 18-year-old climate campaigner from Essex.
At LCOY UK 2022, Lucy Plummer's workshop explored how young people can influence change in very complex political systems. Plummer based the workshop on her research into young people's experiences at the COPs as well as her personal experience as a young participant at COP26.
Approximately 25 young people joined the workshop, including activists from across the UK and other countries, and role-played situations that happened at an intergenerational roundtable discussion at COP26. These real-life interactions between ministers and young people were used to discuss effective communication and collaboration.
Summarizing the importance of attending LCOY UK 2022 and engaging with young climate activists, Plummer explained, "For the sake of the climate crisis, the mental health crisis, the rising cost of living crisis—for the sake of every crisis we find ourselves in, we must get behind our young people by valuing their potential as leaders and embracing their visions for a healthier and happier people and planet and do all we can to empower them to achieve this."
Several other workshops were held at LCOY UK 2022 and included topics such as why the climate crisis is a justice-based issue, transforming eco-anxiety into eco-action, how climate change and health intersect, nature-based solutions and why biodiversity is so important and fast fashion.
Over 140 young people from across the UK registered to attend LCOY UK 2022. Unfortunately, national train strikes on the day of the event prevented many registrants from traveling. However, approximately 50 young people were able to attend and participate in the day's sessions, which included Plummer's and other workshops, speeches, a panel discussion and the drafting of the UK's contribution to the Global Youth Statement.