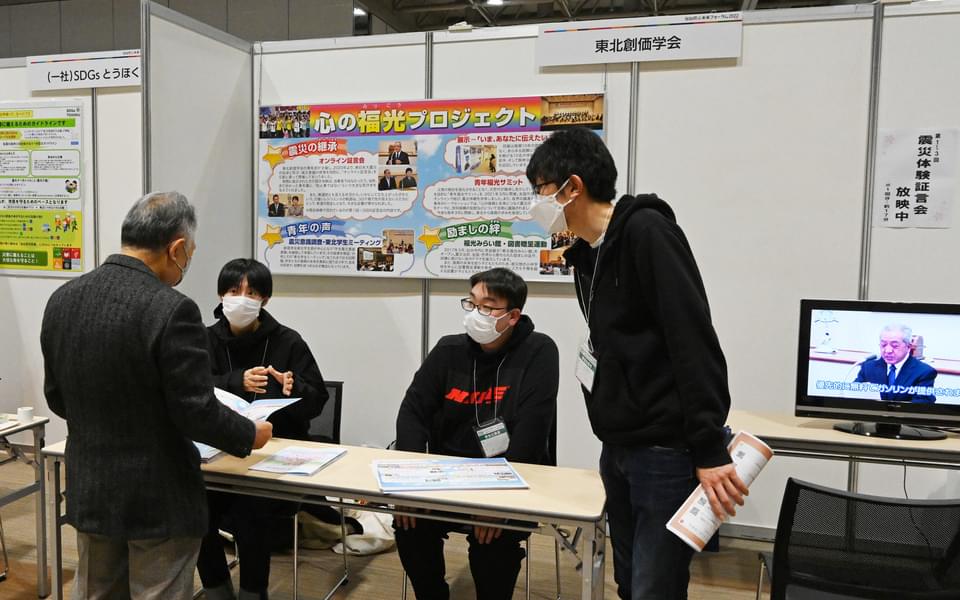 On 5 March, 2022, the Soka Gakkai Student Division in Tohoku participated in the 8th Sendai Bosai Mirai Forum held in Sendai City, Miyagi, which was severely devastated by the Great East Japan Earthquake in 2011. Bosai means disaster risk reduction in Japanese.
The forum was first held in March 2016, on the first anniversary of the United Nations World Conference on Disaster Risk Reduction held in Sendai in 2015. The forum aims to share the lessons learned from the earthquake and offers opportunities for multiple stakeholders to collaborate in disaster risk reduction (DRR) efforts.
The Soka Gakkai has participated in the forum since 2016 to share its experiences and learnings from supporting those affected by natural disasters in Japan. This year, the student division organized a panel session titled "Partnership that Functions as Disaster Resilience" and ran an exhibition booth in the forum. In the panel session, Akiko Benimura from SDGs Tohoku described her previous experience of serving as a hub for non-profit organizations working for recovery of the disaster-affected area. She also introduced SDGs Tohoku's activities bringing together numerous entities under the banner of the SDGs, and shared her conviction that such face-to-face relationships would prove very important in the event of disaster.
Takahiro Shoji from Umibe-no-Toshokan ("Library on the Shore" after the Haruki Murakami novel Kafka on the Shore ) also spoke. The seaside community in Sendai in which he lived was completely wiped out by the March 11, 2011, tsunami. In 2015, he built a small cottage there and worked with his previous neighbors to organize events for visitors to the area. He has arranged sightseeing tours and testimony meetings, and succeeded in creating a grassroots network of ordinary people who have become engaged with DRR. He asserted that activities aimed at local people must be made enjoyable to attract their participation.
A representative from the Soka Gakkai student division shared the findings of the annual surveys on DRR issues it has conducted over the past decade. In particular, he highlighted declining levels of awareness of the earthquake and DRR among students and claimed that more innovative partnerships should be generated in order to engage more students.