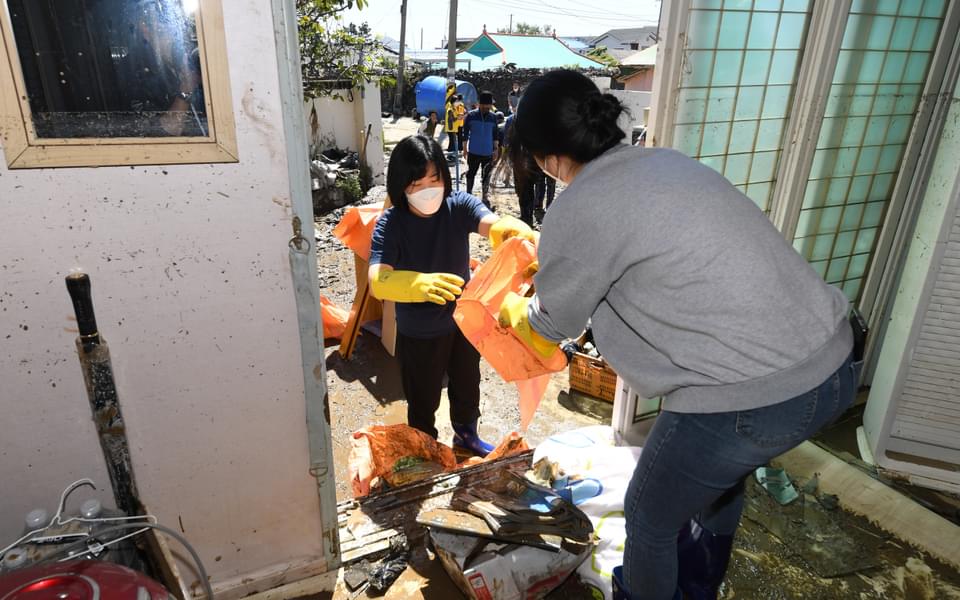 In late August 2022, Typhoon Hinnamnor left a trail of destruction caused by heavy rains and related flooding when it hit Pohang City in North Gyeongsang Province, South Korea. Since then, Korea SGI (KSGI) has been supporting victims through financial and humanitarian assistance.

From 6–8 September 2022, 100 KSGI leaders and 73 youth members from Daegu and Pohang visited Pohang City to support those affected. The volunteers helped residents to clean their houses, move damaged items, clear mud and repair outdoor storage sheds destroyed by the torrential rainfall. They also delivered relief supplies to injured victims. While engaging in relief activities, the volunteers also provided emotional support to local KSGI members who had been affected by the typhoon. KSGI General Director Kim In Soo took part in the relief efforts and shared words of encouragement.

On 21 October 2022, KSGI made a donation to the Pohang City Council to support the earliest possible recovery of the disaster-hit areas.

When record rainfall struck Seoul and the surrounding areas on 8 August 2022, 65 KSGI members from Gwanak-gu, Dongjak-gu and Yeongdeungpo-gu also helped recover damaged houses and visited members of the community who were affected by flooding to offer support.