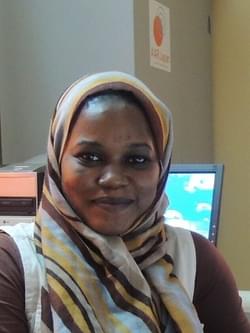 Sanaa Bashir Ibrahim Elnaw is a mine risk education officer for the Association for Aid and Relief, Japan. She describes the challenges and rewards of her work in Sudan.
Sudan is ethnically and linguistically diverse, embracing a mixture of Arabic and African cultures and influenced by the East. Sudan has experienced several armed conflicts, including a civil war that lasted over 20 years and resulted in the separation of the southern part of the country in 2011. Even after the Comprehensive Peace Agreement was signed in 2005 to officially end the war, new conflicts broke out in different areas, some of which are still ongoing.
Consequently, parts of the country are contaminated by landmines and unexploded ordnance (UXOs), which continue to pose a threat to people regardless of whether they are soldiers or civilians. They also hinder development and burden the country's economy with costly demining operations and assistance to landmine victims.
As a female mine risk education (MRE) officer in Sudan, I work with women who are not only exposed to the risks of landmines and UXOs, but also deprived of basic human needs such as clean water, healthcare and education. I visit villages and schools in the areas at risk of landmines and UXOs and conduct educational sessions to raise awareness about the risks of landmines and how to minimize those risks.
Among the challenges of this work is a strict culture of gender separation in certain areas. In traditional and conservative communities, men and women occupy separate spaces; women are not allowed to enter men's space and vice versa. Even though I am Sudanese, the strictness of this practice in certain communities was unfamiliar to me. Special procedures are required for us to even assess the impact of landmines on women and their needs for MRE. Only female MRE officers can access the female members of these communities; and to gain permission for this, we need to convince the male authorities that we can be trusted by fully complying with their gender code, including the way we dress, behave and talk.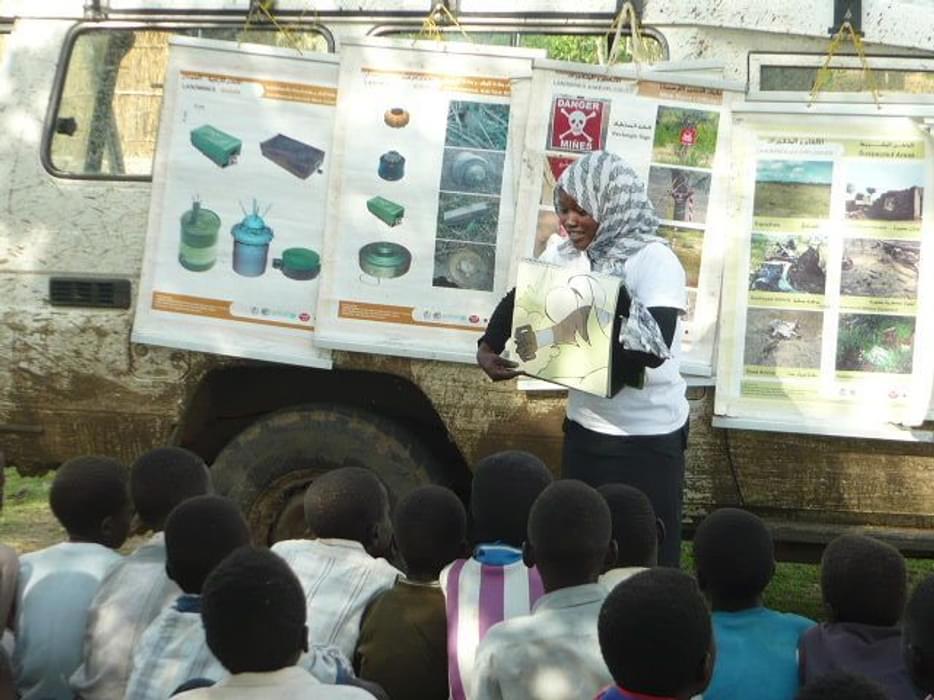 Some women I have met strictly obey their community rule of never showing their faces to strangers. Also, women should not be seen in public places, including markets. Therefore, each time we visit these areas, we have to stock up with supplies at nearby towns before arriving in the target village so as to avoid having to go to the village market. This kind of precaution is important, as one of the national nongovernmental organizations that previously operated in the same area was once suspended by local leaders because the organization's female officers went to the market.
Despite such challenges, I feel proud to be a woman involved in mine action efforts in Sudan precisely because only as a woman can I protect these women's lives from landmines and UXOs. Furthermore, through our MRE activities, we involve these women in identifying their own risks and help them understand their rights to safety. Although this is a sensitive procedure—we need to address their concerns in culturally acceptable ways—it empowers them to find their own voices.
The circumstances under which women are placed and the roles they are expected to play differ from community to community. Some women play leading roles in their communities and have greater influence, while others are under various constraints.
The challenges of being a woman in a conservative community affected by landmines and UXOs are considerable. Nonetheless, women in these communities, especially mothers striving to provide a better future for their children, are strong.
Meeting such women inspires me to work harder. I am determined to continue protecting the lives of Sudanese women and supporting them with their life struggles.