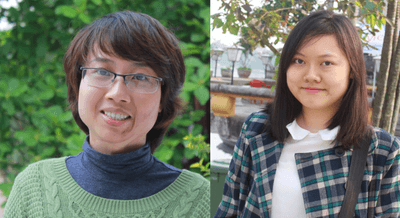 Tho Nguyen and Thanh Ngo are, respectively, program officer and program assistant/communications officer for ISET-Vietnam. They describe ways of introducing climate change to students in Cam Le District. See i-s-e-t.org/about/international/vietnam.html.
"Students and teachers in Cam Le District, Da Nang, are all too familiar with the impact of disasters," said Mr. Phi Chau, senior official of the Department of Education and Training (DOET) of Da Nang, Vietnam, as he officially opened the "We Paint to Act Against Climate Change" contest at Ngo Quyen Primary School in May 2014. The event was part of the Integrative Education for Urban Climate Resilience Project, which works toward developing and piloting integrative curricula for climate change education in all schools in Cam Le District.
The project aims to build the capacity of students, teachers and their families so that they can respond to immediate climate impacts and contribute actively to urban climate resilience as community members and professionals in the coming decades. These are deeply relevant concerns as Da Nang—a city in the central region of Vietnam—is particularly vulnerable to the impacts of climate change and extreme weather phenomena, such as floods, heat waves, saltwater intrusion, riverbank erosion, droughts and extreme cold fronts.
This three-year project, which began in 2012, is funded by the Rockefeller Foundation under the Asian Cities Climate Change Resilience Network program, with the Institute for Social and Environmental Transition-International, Vietnam (ISET-Vietnam), the Da Nang DOET and Da Nang Climate Change Coordination Office as key implementers.
In recent decades, Da Nang has experienced rapid urbanization, which—together with climate change—is threatening the city with serious compounding impacts. Students, the future generations of Da Nang, therefore need to be equipped with useful knowledge and skills related to climate change and urbanization in order to respond most effectively.
In Cam Le District, climate change, in combination with urbanization, has directly affected the education sector. Natural disasters damage schools, books, teaching equipment and supplies. Increased temperature combined with pollution accelerates the spreading of outbreaks such as dengue fever, malaria, sore eye and encephalitis, which children are most vulnerable to.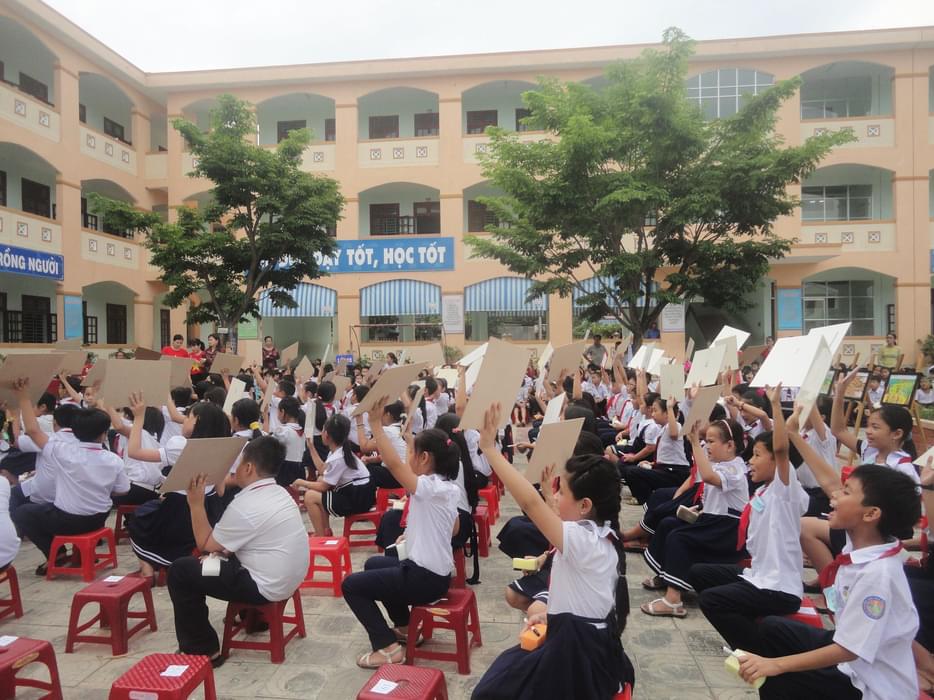 However, a key challenge of incorporating climate change into the school curriculum is that the curriculum is already very full. Based on a survey assessing the capacity and demands of education managers, teachers and students in Cam Le District, the project team—which includes teachers, education and climate experts—proposed that climate change content be integrated into existing education programs. These include both regular and extracurricular components of three subjects for two grades in each education level (primary, secondary and high school). The subjects at high school level, for example, are geography, biology and civic education. A key approach applied throughout this process is shared learning dialogue, which ensures that the opinions and ideas of students, teachers, families, local communities and experts are all taken into account.
Teachers identified teaching materials and training among their main needs, and when asked about introducing climate change content in extracurricular activities, students suggested activities such as field trips (e.g., picnicking, camping), presentations, contests (e.g., video clip making, drawing, debating and speech delivering, presenting thematic reports) and club activities on climate change.
The painting contests mentioned above, organized as extracurricular events, offer a way to raise public interest and concern around climate change. During these events, we were surprised at the level of eagerness and enthusiasm shown by students, and especially the details and stories they could convey through their drawings. This is a positive sign for the future of urban climate resilience in Da Nang.
As of June 2014, the integrative education program has been piloted in all schools of Cam Le District and is being further refined for replication.
Climate change is a global issue, but adaptation to it can only be done locally. At both micro and macro levels, Da Nang is making every effort to build capacity for its current and future generations in this regard.