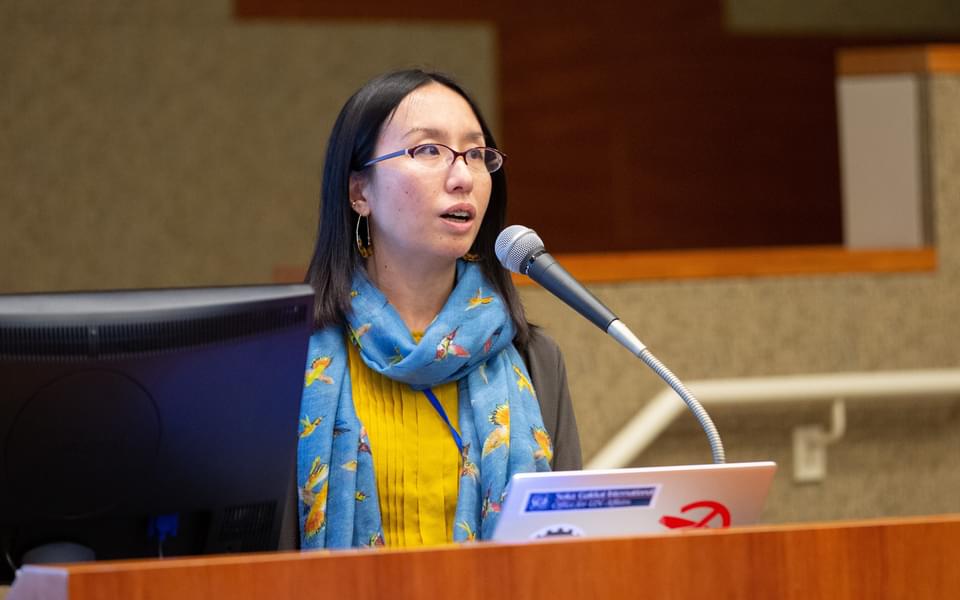 10th April 2023
IDN Article | G7 Hiroshima Summit: Opportunity to Rethink National Security - Adopting a No First Use Policy is Equally Important
The current war in Ukraine has shown that nuclear deterrence is deeply flawed. It relies on the assumption of "rational actors" in power and credibility of threats, which we know are far from reality, especially in times of conflicts.
Beyond their potential use, nuclear weapons continue to threaten us through their mere presence. For instance, resources spent on those weapons hinder the advancement towards achieving the SDGs and building the post-pandemic world. Therefore, they tangibly affect other priority areas to be addressed at the G7 summit.
Thus, this year's G7 summit presents an opportunity to seriously rethink our understanding of security and international peace.
The 2022 SGI Peace Proposal, authored by our international president Daisaku Ikeda, urges that we must "detoxify" ourselves from current nuclear-dependent security doctrines. Based on this, I offer some recommendations on controlling nuclear weapons:
1. Adopt a No First Use policy
To reduce current tensions and create a way toward resolving the Ukraine crisis, the nuclear-weapon states must urgently initiate action to reduce nuclear risks. With nuclear arsenals in a continuing state of high alert, there is a considerably heightened risk of unintentional nuclear weapon use.
For this reason, SGI has renewed its commitment to advocate for the principle of No First Use to be universalized as the security policy of all states possessing nuclear weapons as well as nuclear-dependent states.
We believe that adopting the doctrine of No First Use by nuclear-armed states would significantly stabilize the global security climate and help create a much-needed space for bilateral and multilateral dialogue toward ending the conflict.
A No First Use policy would also operationalize the recent statement by the G20 leaders that the use or threat of use of nuclear weapons is inadmissible, as well as the statement by the P-5 countries in January 2022 that "a nuclear war cannot be won and must never be fought."
Certainly, such declaratory policy must be accompanied by changes in actual postures and policies, such as taking all nuclear forces off hair-triggered alert, in order to build mutual trust.
Overall, No First Use would be a critical step toward reducing the role of nuclear weapons in national security and serve as an impetus to advance nuclear disarmament. We therefore urge G7 leaders to seize the opportunity to discuss and announce strategies of risk reduction, de-escalation, and disarmament, particularly by declaring the policy of No First Use.
2. Engage productively in multilateral disarmament discussions and take bold leadership
It is critically important that G7 leaders take bold leadership and renew their commitment to fulfill obligations for disarmament stipulated under Article VI of the NPT.
Equally important would be to further explore the complementarity between the NPT and the Treaty on the Prohibition of Nuclear Weapons (TPNW). We especially hope Japan will fulfill its commitment as a bridge-builder by engaging productively in the TPNW discussions, recognizing that, despite divergent approaches, all countries share grave concerns about the potential use of nuclear weapons.
We strongly urge G7 countries to work cooperatively with the TPNW States Parties by committing to attend meetings of states parties to the treaty in the future.
3. Commit to work towards the elimination of nuclear weapons
It is often said that a world without nuclear weapons is the "ultimate goal." However, we have to be sure this goal is achieved before nuclear weapons destroy our world. There have been some calls by experts to set the year 2045 as the absolute deadline for the elimination of nuclear weapons. At the Hiroshima Summit, G7 leaders could possibly agree on setting such a timeline and determine to begin negotiations accordingly.
4. Support disarmament and nonproliferation education initiatives
Lastly, we call on G7 leaders to demonstrate their support for educational initiatives at every level. We strongly hope that they set an example by visiting the Hiroshima Peace Memorial Museum and meeting the atomic bomb survivors, to directly hear from them, and learn from their experiences.
To shift the current security paradigm, we must transform the way people think about peace and security, and challenge the dominant narrative that nuclear weapons keep us safe. We need to raise the public's awareness that the surest way to avoid a nuclear war is by eliminating these catastrophic weapons.
A 2009 nuclear abolition proposal by the SGI president states that, if we are to put the era of nuclear terror behind us, we must confront the ways of thinking that justify nuclear weapons; the readiness to annihilate others when they are seen as a threat or as a hindrance to the realization of our objectives.
For this reason, we ask for the G7 leaders' commitment to make available the opportunity for everyone, especially but not limited to young people, to learn about the humanitarian consequences of nuclear weapons.
We welcome Prime Minister Kishida's initiative for the Hiroshima Action Plan, and establishing a "Youth Leader Fund for a world without nuclear weapons." We hope Japan will exercise its leadership to affirm that the purpose of such initiatives is not to provide only the education about disarmament, but education for disarmament.
To close, the current tensions and uncertainties in the global security climate elevates, not undermines, the value and role of dialogue and diplomacy. Forums like the G7 and the United Nations serve more important functions than ever.