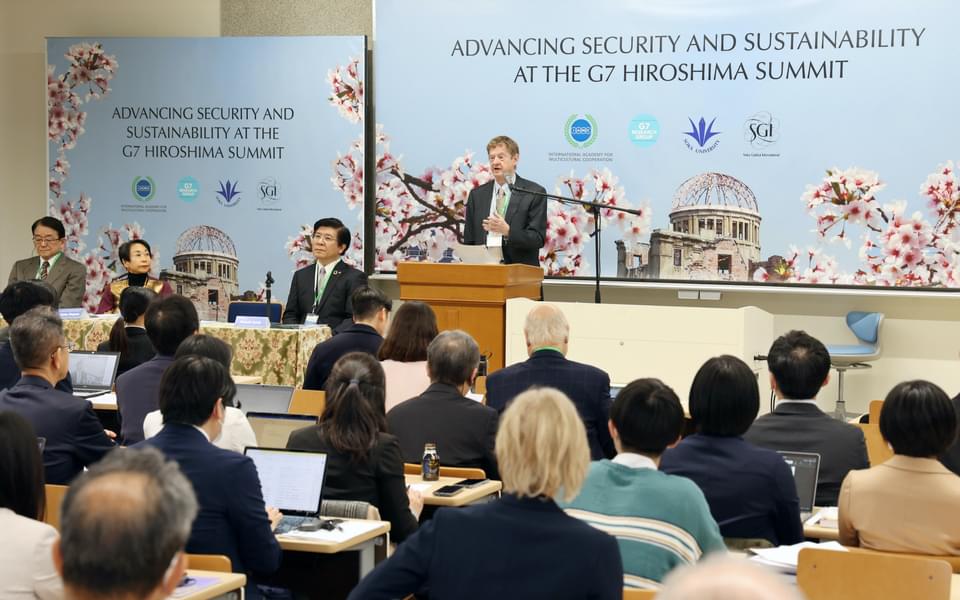 Conference - Advancing Security and Sustainability at the G7 Hiroshima Summit

Date: 29 March 2023 | 9:00 AM - 5:30 PM JST

Sponsored by: Soka University, G7 Research Group, International Academy for Multicultural Cooperation and Soka Gakkai International
Watch the conference recording
Share this page
Peace

Disarmament

Sustainability & climate change
Soka University campus

Opening words by John Kirton, Director, G7 Research Group ©︎Seikyo Shimbun

Keynote address by Takashi Ariyoshi, Deputy Secretary-General for the G7 Hiroshima Summit

Presentations by session chairs summarizing the recommendations arising from their sessions

Conference speakers at Soka University ©︎Seikyo Shimbun
Ahead of the G7's Hiroshima Summit on 19-21 May 2023, the G7 Research Group, Soka University, Soka Gakkai International and the International Academy for Multicultural Cooperation sponsored a one-day invitational, international conference at Soka University in Tokyo on 29 March 2023 (Japan Time).
At this hybrid, live streamed event, experts from the educational, academic, civil society and government communities gathered in person and virtually to share their perspectives and offer their best analysis and advice on what Japan's Hiroshima Summit should do to control nuclear, climate, and global health risks.
The conference concluded by assembling specific recommendations, which became the basis for priority recommendations sent by the sponsors to the G7 planners.
See the conference program for further details.