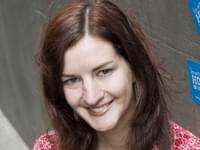 Ellen Sandell is national director of the Australian Youth Climate Coalition (aycc.org.au). She describes the work of the Coalition and how it has influenced public opinion on climate issues.
Only five years ago, the leaders of Australia's national youth organizations sat in a room in Melbourne talking about how we were going to solve the climate crisis.
These young people were from very different backgrounds—faith groups, indigenous people, young professionals, environmental and social justice activists—yet we had one important thing in common: we were young people facing a very uncertain future due to the threat of climate change. We weren't going to let our government and business leaders get away with destroying our future.
From this one meeting, a national youth organization—the Australian Youth Climate Coalition (AYCC)—was born. The AYCC has gone on to become a "youth-led political group that has swayed national opinion without the backing of major political parties" (according to The Sydney Morning Herald).
The AYCC's mission is simple: to create a generation-wide movement to solve the climate crisis. Our means are twofold: by creating policy change and cultural change. We know that one of these alone is not sufficient: cultural change alone won't change things fast enough or leverage the immense power that the Federal Government has to change our energy systems and influence business and society. However, policy change alone risks leaving the community behind and is susceptible to reversal by successive governments.
This twofold purpose has seen the AYCC grow into a national organization with over 70,000 online members and branches in every State and Territory in Australia.
Some of the AYCC's campaigns focus primarily on gaining mainstream media attention, capitalizing on the cheeky-yet-honest image that characterizes a youth-run organization.
A great example of this is the "climate elephant" that followed Prime Minister Julia Gillard and Opposition Leader Tony Abbott around the country on the 2010 election campaign trail. After hiring every single elephant costume in the country, an army of volunteers was deployed to follow the leaders, politely interrupting press conferences and ensuring climate change was not ignored in an election where both leaders would have been content to sweep the issue under the carpet (or ignore the "elephant in the room").
After the 2010 federal election, national newspaper The Australian said the elephant and the AYCC "have shown how a grassroots campaign can help to get an issue onto the national stage."
Other campaigns covered by the media include the high-profile "Say Yes Australia" campaign to support putting a tax on carbon, in which the AYCC was a key player. Its strength lay in the grassroots organizing that included volunteers placing thousands of flyers in their neighbors' letterboxes, holding rallies in every capital city, and thousands of messages being displayed on the lawns of Parliament on the day the law was passed.
The AYCC's strength is not just in its visibility, but in its large grassroots network and willingness to do the nuts-and-bolts work of movement building.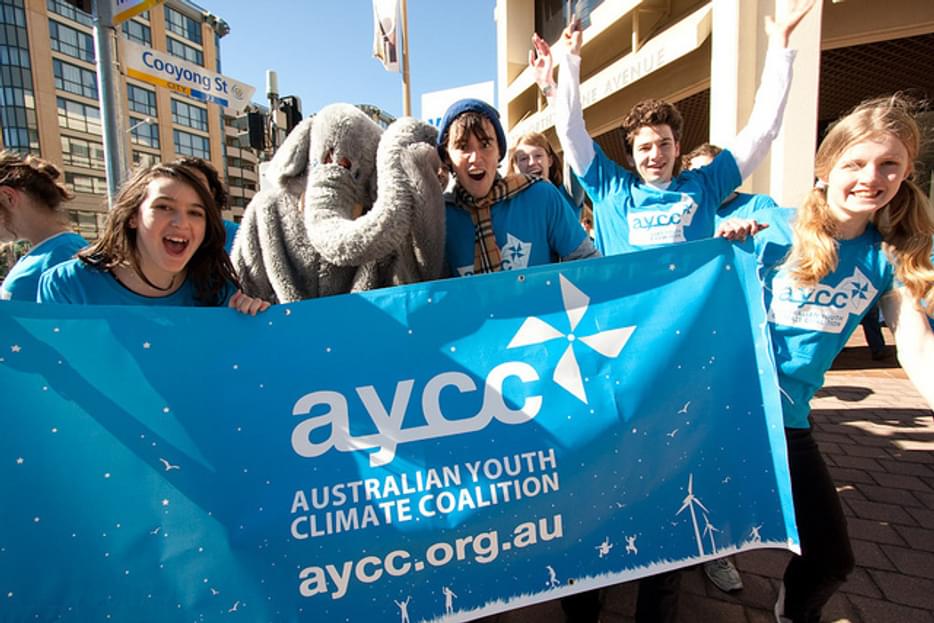 The activities that underpin this work are exemplified by campaigns such as Youth Decide in 2009, where AYCC volunteers held over 300 events where young people could come together to vote for the kind of world they wanted to inherit. It includes our Switched On Schools program, where volunteers run presentations and workshops in schools across the country, and the powerful work of training and building up 70 local action groups.
The dominant reason for why people join the AYCC's movement is because they want to make a difference to the most important issue of their time.
In 2007, just after Al Gore's An Inconvenient Truth brought climate change science to the mainstream, young people were galvanized into action and had nowhere to go. The AYCC filled that hole and provided a way for young people to be meaningfully involved in creating their own future. We also recognized that young people are no longer wanting to get involved in partisan politics or subscribe to ideology, but rather they want to make change on the issues they care about.
However, providing meaningful pathways for action is no easy feat: it involves good-faith organizing that lets people in on the organization's strategy and reports back honestly on wins and losses. It means involving people in decisions, even when it's inconvenient, giving people ways to step up quickly into challenging roles, supporting volunteers, communicating a coherent strategy, and providing options for people with differing levels of capability and interest. This commitment to meaningfully involve members is something that sets the AYCC apart from many other nonprofit organizations.
Yet ultimately, the success of the AYCC comes down to the fact that climate change is the most important issue of our time, and our mission is deeply relevant to young people and their future.
In 2011 alone, we have seen droughts so bad that in Russia the government was forced to halt wheat exports. Floods have affected millions of people across Pakistan, and closer to home, Brisbane was hit by unprecedented flooding.
Science now shows that these events are exacerbated by climate change and will only become more severe and frequent if we do nothing.
The AYCC's ultimate goal is to create a world in which organizations like ours cease to need to exist: a just, sustainable world where young people have the same safe climate as their parents and grandparents before them.
That world may seem far from reality at times, but the AYCC takes hope from the words of veteran environmental philosopher and campaigner Paul Hawken, who says:
"If you look at the science about what is happening on earth and aren't pessimistic, you don't understand the data. But if you meet the people who are working to restore this earth and the lives of the poor, and you aren't optimistic, you haven't got a pulse."