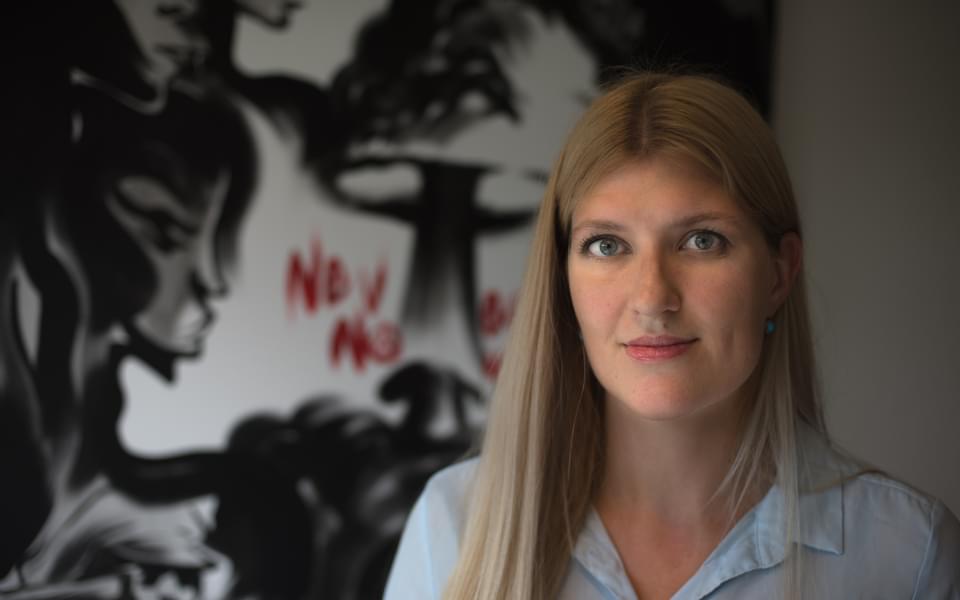 2 September 2019
Building the Culture of Peace | Interview with Beatrice Fihn
Beatrice Fihn, Executive Director of the International Campaign to Abolish Nuclear Weapons (ICAN) was interviewed by the Seikyo Shimbun, a Japanese daily newspaper, as part of its monthly Culture of Peace informational series throughout 2019 to mark the 20th anniversary of the United Nations Declaration and Programme of Action on a Culture of Peace (UN General Assembly Resolution A/53/243). Ms. Fihn describes that ICAN is a network of 554 organizations in 103 countries and believes that its success has been in the diversity of its partnerships.
Seikyo Shimbun: ICAN operates as a network of over five hundred organizations.
Beatrice Fihn: Yes. The aim of our network is to work together in solidarity for the elimination of nuclear weapons. Each of the individuals in the 554 organizations in 103 countries (as of July 2019) participating in this movement has been motivated by the stories of Hibakusha and nuclear test survivors and has a profound wish to protect their fellow human beings from the pain and suffering caused by nuclear weapons.
We all live in this world together. We cannot be safe unless the people around us are safe as well. We can't have safety, security, and peace at the expense of someone else. ICAN firmly believes in the equality of every individual and nation, which is why we also stand in solidarity with organizations working for human rights, women's rights, and sustainable development.

SS: Though we may not be powerful as individuals, by joining together we can change society.

BF: That's right. That's the true power of civil society. By raising issues and working together in solidarity, civil society becomes a force for change.

In the past many nuclear disarmament movements focused on making recommendations to governments or trying to influence world leaders. That approach does not empower the people, however.

ICAN reverses that strategy by telling people that they are the main actors. Through that reversal, by really celebrating the people's power, we are able to motivate them and expand solidarity.

Nuclear weapons is quite a complicated issue and it can be difficult to fully understand sometimes. So we've done a lot of work to simplify the message—that the elimination of nuclear weapons is essential to the survival of the human race. This has resonated with many people and enabled us to expand support for the movement.

SS: Is it difficult to create solidarity among so many diverse organizations?
BF: It is an ongoing challenge, but I think one of the strengths and key reasons why ICAN has been so successful is that we have so many different types of partner organizations.
Youth organizations are adept at sharing things
on social media to promote their goals. Some
organizations, such as SGI, are faith based, and some are academic organizations focused on research. I think that the key is to allow each group to make the best use of its expertise and its own unique perspective, while aiming towards the shared goal of nuclear disarmament. This enables us to expand our range and build a multi-faceted campaign, putting our differences to use to create change for the purpose of achieving our greater goal. I believe that this type of solidarity is the key to building a culture of peace.
Naturally, we sometimes have differences of
opinion. But by keeping our shared aim of nuclear disarmament firmly in mind we can advance our cause and celebrate our progress together, which creates a very positive atmosphere.
SS: Many young people are active in ICAN.
BF: I spend a lot of time meeting young people, and I'm amazed by their intelligence and commitment.
But many of them seem to lack the confidence that they can change things. In particular, young people who have grown up in our highly individualistic society need to learn the power of working together in groups and building solidarity.
To facilitate that, ICAN actively listens to young people and has consciously put young people in leadership positions. We give them the microphone, the platform, and get their ideas onboard. Sometimes those who have been working for a very long time in the peace movement also have to learn to step aside and let the youth take the lead. The participation of a younger generation is critical to the success of any movement.
Older generations need to share their knowledge and inspiration with the youth. They have stories to tell of their victories in the history of the nuclear disarmament movement over the decades, and when young people hear them, they realize that everything they're doing today is building on what remarkable people did a long time ago. This builds confidence and also a very special trust and bond across generations.
SS: Do you have a message for young people who lack confidence in their power to create change?
BF: It's important to remember that you don't have to know everything to accomplish something.
Actually, I got involved with ICAN by accident. I was working as an intern at an NGO in Geneva, when I was asked to join. To be honest, I knew little about nuclear weapons at the time. But after a few months of studying the issue, I became convinced of its importance and excited to take part in the movement.
In today's fast-paced world, if you believe you must be fully prepared before you can take any action, the moment will already be gone. If things don't work out, there will be other opportunities. What's important is to have an unyielding commitment to protecting peace and life.
SS: How do you foster the spirit of solidarity and a culture of peace within your family?
BF: We have a seven-year-old daughter and a four-year old son. I try to talk to them about these things as much as is suitable for their ages. Happily, I think they are beginning to understand that their mother is trying to make the world a better place. Recently, for example, they have started to ask questions about nuclear weapons.
As a child, I was strongly influenced by my parents' powerful commitment to peace activities and opposition to the Vietnam War. I think children understand far more than we sometimes give them credit for.
Creating solidarity for peace starts, I believe, from having an interest in issues in your immediate environment and the larger world. It's also important in my opinion for children to learn from an early age to respect those from different cultures and backgrounds.
The experience of working together with others at the family and community level is the way to foster the spirit of solidarity
This interview was published in Japanese in the Seikyo Shimbun, a daily newspaper of the Soka Gakkai in Japan, on 2 September 2019.