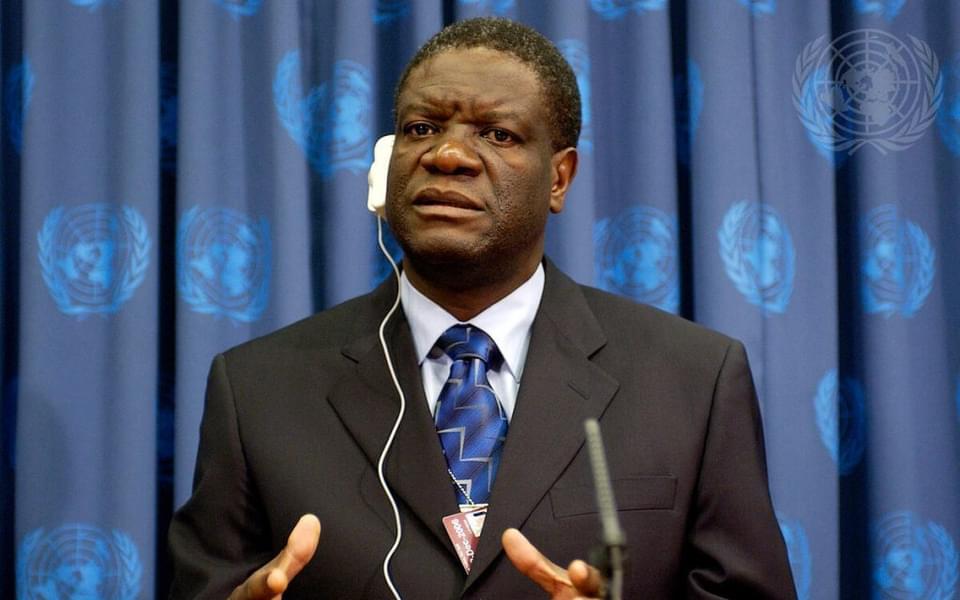 22 December 2020
Building the Culture of Peace | Interview with Dr. Denis Mukwege
Dr. Denis Mukwege, Gynecologist from the Democratic Republic of the Congo (DRC) and recipient of the 2018 Nobel Peace Prize was interviewed by the Seikyo Shimbun as part of its monthly Culture of Peace series. In 1999, Dr. Mukwege established the Panzi Hospital in Bukavu-city, Eastern DRC, where he has treated over 50,000 women who were victims of sexual violence since the Second Congo War. He has brought the world's attention to the need to put an end to the rampant sexual violence taking place in the Eastern DRC and the importance of elevating the status of women. Dr. Mukwege points to the failure to hold the perpetrators of violence in the Congo accountable as one of the reasons for the persistence of that violence. In the interview, he discusses the history of conflicts and violence in the DRC, the use of rape as a weapon of war and strategy of terror, and the need to offer holistic care when supporting the survivors of sexual violence.
Seikyo Shimbun: Can you explain the background for the ongoing violence in the Congo?
Denis Mukwege: The origins can be traced back to the massive refugee crisis and spillover from the 1994 genocide in Rwanda. As nearly one million Rwandan refugees fled to Eastern Democratic Republic of the Congo (DRC). Under the pretense of dealing with the presence of armed refugees in camps, Rwandan and Ugandan
armies entered the DRC (the First Congo War).
The new government installed after the overthrow of the Mobutu regime remained racked by internal division among various factions, and the Second Congo War erupted in August 1998. This second war formally ended in 2003. Meanwhile, in 2000, a UN peacekeeping mission (PKO) was deployed to the DRC. Despite the significant UN presence and peace agreements signed since, fighting among various armed groups and militias and the related violations of human rights and crimes against civilians in the eastern region have continued. This was also the time when barbaric violence against women began.
SS: Why were women targeted with violence?
DM: The DRC is a beautiful country with a wealth of natural resources. It possesses rich stores of gold, diamonds, uranium, tin, coltan, and other minerals crucial to the information revolution and globalization. Some of these minerals are used in manufacturing mobile phones and electronic devices. According to some experts, 80 percent of the world's tantulum (derived from coltan) used in mobile phones comes from conflict areas in Eastern Congo. The armed groups and militias who are terrorizing the region are acting as proxies for leaders of neighboring countries and multinational firms to capture the mineral fields and natural resources of the DRC.
It is thus in the context of an economic struggle for the control of minerals that rape as a weapon of war and as strategy of terror appeared for the first time in the DRC. In the Congo women play a central role in family life, growing crops and caring for children. These barbaric acts against women have the effect of destroying the matrix of life, the family, social, and economic fabric, while traumatizing entire communities, who are then forced to abandon or flee their land, leaving it to occupation by militia groups.
Mass rapes have occurred in armed conflicts in the past, but what makes sexual violence committed in the DRC different is its magnitude and brutality. In the DRC, sexual violence has taken the place of guns and bombs as a weapon of war, especially in areas rich in mineral resources.

SS: In 1999 you founded the Panzi Hospital in Bukavu-city, Eastern DRC, and for the past 20 years you have been treating and supporting women who are victims of sexual violence.
DM: Since 1999, we have treated nearly 55,000 survivors of sexual violence. We are still treating an average of ten patients every day. Yet only a handful of affected women have received treatment, and what we have observed is only the tip of the iceberg. Women of all ages, including girls and even babies, have been affected. The youngest I operated was 6 months old, and the oldest I treated was more than 80. Overall, this human tragedy is impossible to describe in words.
When we started witnessing and treating children—born of rape themselves—being raped and destroyed, we realized that our work could not be limited to the operating room. To defend the rights of victims and to fight against the root causes of violence against women, I decided, we needed to start traveling around the world to alert the public to the seriousness of the situation. At the United Nations and various other international conferences we have reported on the violence against women taking place in the Congo and urged international action to put a stop to it.
SS: As a result of your actions, you have been exposed to violence on numerous occasions, yet you continue to fight. You remain under the protection of PKO forces. What is the source of your conviction to fight against violence in spite of threats to your own safety?
My father played a pivotal role in my decision to become a physician. A Pentecostal pastor in the Congo, he dedicated his life to helping and comforting the suffering, and I admired him for his dauntless spirit in the face of every challenge.
Once when I was a boy, I accompanied my father on a visit to a household where there was a sick child. My father prayed for the child, wished him well, and then we left. I asked my father: "Dad, why are you praying, but don't give him medicine? He'll die." My father replied, "Denis, I'm not a doctor. All I can do is pray." I said: "You can pray, but I will give medicines." My father nodded and said, "That way we will both be able to help. You will provide medicine and I will offer prayer." It was at this point that the idea of becoming a physician was born in me. I feel as if my father is always with me. The underlying spirit of Panzi Hospital is a combination of science and faith that engenders the vitality to fight despair and impart patients with the courage to live.
As a devoted Christian I believe that each of us has a mission. We are not here for our own pleasure and happiness. I am here for others. You are here for others.
SS: At Panzi Hospital you not only help women subjected to violence to heal but also provide them with the fullest spectrum of care and support to rebuild their lives socio-economically, educationally, and spiritually. You enable women who have been subjected to extreme violence to find new hope in life and go on to reach out to and help others who have experienced the same things. This is an important way in which women can play a role in building a culture of peace.
DM: Let me share the story of a women named Sarah, whom I spoke of in my speech accepting the Nobel Prize in Oslo in 2018. Sarah was referred to the hospital in critical condition. An armed group had attacked her village, massacred her whole family, and had left her alone. She was then taken to the forest as a hostage and tied to a tree. She was gang-raped every day until she lost consciousness. When she arrived at the hospital, Sarah could not walk or even stand. Because of the seriousness of her genital, urinary, and digestive injuries coupled with an infection, no one could imagine her one day being able to get back on her feet. Yet, with each passing day, the desire to continue to live sparkled in Sarah's eyes. Every passing day, it was she who encouraged the medical staff not to lose hope.
Today, Sarah is a beautiful, smiling, strong, and charming woman. Sarah received fifty US dollars, a grant our Dorcas transit house gives to women who are ready to rebuild their lives socio-economically. Today, Sarah runs her small business. She has bought a plot of land. With the assistance of the Panzi Foundation she has built a little house. Her experience shows that, no matter how difficult and hopeless the situation, with determination there is always hope at the end of the tunnel.
There are many other survivors like Sarah who have benefited from the holistic system Panzi Foundation has put in place. By providing women with holistic care, including economic and educational opportunities, former victims of sexual violence can rediscover or find their life purpose. This holistic care has been helpful in turning women survivors into the agents of change in their community. Ultimately, survivors become the key members of their community, agents of change, and defenders not only of their rights but those of their children as well as human rights in general.
Furthermore, I strongly believe we must support those women who have gone through the worst of life experiences because we can learn a lot from them in return. Their courage and strong will to recover and enjoy life again give us the inspiration and determination to pursue our humanitarian mission and to fight for justice, human rights and peace.
SS: You have communicated the reality of the violence taking place in the Congo to the world. What can we do about it? Do you have any message on this subject for the people of Japan and the world?
DM: In my speech upon accepting the Nobel Peace Prize I said: "Taking action means saying 'no' to indifference. If there is a war to be waged, it is the war against the indifference which is eating away at our societies."
This is not a problem limited to a distant African nation. Needless to say, building lasting peace in the DRC and the Great Lakes region means promoting world peace.
The way exists to build a better and more just society, promoting the development of all, where women enjoy the same rights with dignity as men. Let us not be indifferent to the plight of the thousands of women around the world who are murdered or subjected to inhuman treatment simply because they are born women. Every day, as we use our electronic devices, we need to be mindful of the fact that they are manufactured with resources from conflict zones in the Congo, which in turn should remind us of our moral responsibility.
Let us mobilize, men and women, in a spirit of solidarity, cooperation, and mutual respect, at the individual and collective, local and global levels, to build a better and peaceful world. This dream is possible. Each of us can help turn it into reality.
This interview was published in Japanese in the Seikyo Shimbun, a daily newspaper of the Soka Gakkai in Japan, on 22 December 2020.