On 13 December 2020, a global virtual book launch of Creating the Culture of Peace: A Clarion Call for Individual and Collective Transformation was hosted by Soka Gakkai International (SGI)-USA which gathered over 600 participants. The book is a dialogue between Ambassador Anwarul K. Chowdhury, former Under-Secretary-General and High Representative of the UN and Founder of the Global Movement for the Culture of Peace (GMCoP) and Daisaku Ikeda, SGI President. The book was published this fall in commemoration of the 20th anniversary of the UN General Assembly's resolution on the Culture of Peace in 2019 and the 20th anniversary of the UN Security Council Resolution 1325 on Women and Peace and Security in 2020.
The "Declaration and Programme of Action on a Culture of Peace" was adopted by the UN General Assembly in 1999 and is a call to Member States, United Nations and all of humanity to adopt a culture of peace and nonviolence in 8 action areas.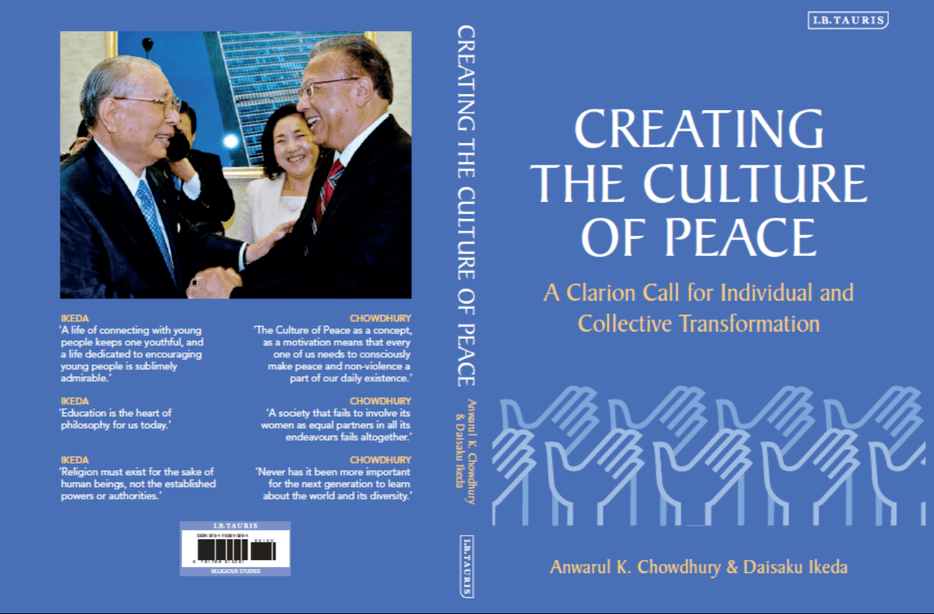 The book, spanning 14 chapters, covers topics such as education, gender equality, children's rights and global citizenship. Ambassador Chowdhury quoted from the book which states: "humanistic education is the wellspring of the culture of peace." The spirit in which the book was written, he said, was to facilitate a dialogue between its authors and young people. In the divided world in which we live now, he finds the culture of peace to be transformational as it challenges each of us to become better human beings.
Maya Gunaseharan, SGI-USA's National Young Women's Leader, discussed the contributions of the book and Daisaku Ikeda's belief in the power of engaging in transformative dialogue. Following this, two SGI-USA youth, Amelia Gonzales and David Drake, addressed particular sections of the book that most resonated with them, and later addressed questions from the audience. With growing concern at the increasing rate of young people afflicted with depression and anxiety in the United States, a question was asked on the topic of mental health, to which Ambassador Chowdhury commented that this topic was mentioned for the first time in a political document, the Sustainable Development Goals (SDGs). Throughout the discussion, he stressed the role of individuals in creating the culture of peace, saying, "You will be amazed to see how much impact you can have on others. The whole picture is not complete without individuals."
The book is available for purchase through major national bookstores.