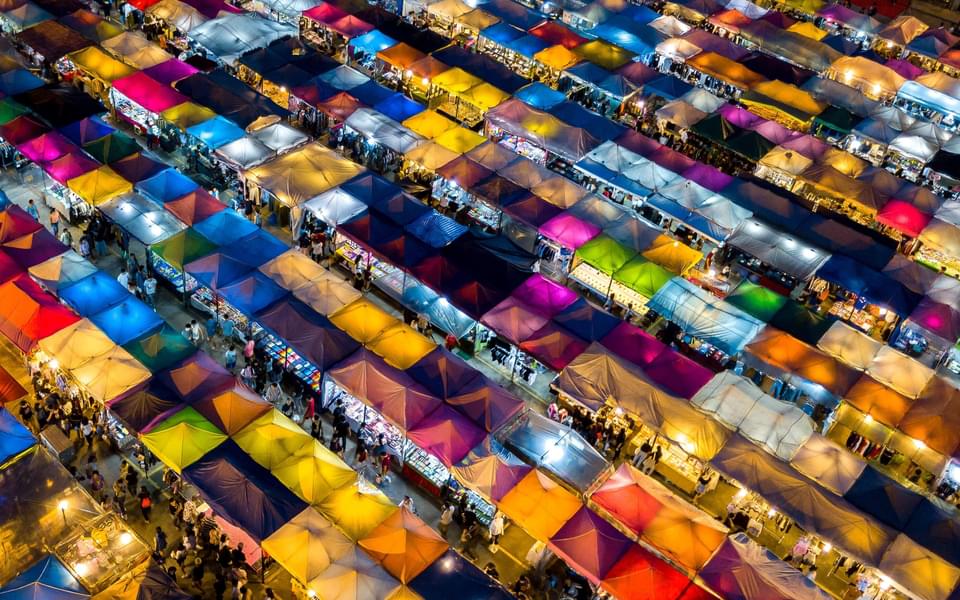 From 28–31 March 2022 SGI participated in the 9th Asia-Pacific Forum on Sustainable Development (APFSD), which served as a regional meeting to prepare for the High-level Political Forum on Sustainable Development (HLPF) to be held in July 2022. The Asia Pacific Faith-Based Coalition for Sustainable Development (APFC), which brings together ACT Alliance, Arigatou International, Islamic Relief Worldwide, Soka Gakkai International, and World Vision International, has been present at APFSD since its official launch in 2018. This year, APFSD aimed to catalyze solutions and peer learning to simultaneously accelerate the region's implementation of the 2030 Agenda and its recovery from the COVID-19 pandemic. This goal was in keeping the forum's 2022 theme, "Building back better from COVID-19 while advancing the full implementation of the 2030 Agenda in Asia and the Pacific."

APFSD's 3,000 attendees also participated in an in-depth review of the HLPF's Sustainable Development Goals (SDGs): SDG 4 (quality education), 5 (gender equality), 14 (life below water), 15 (life on land) and 17 (partnerships for the goals). In summary, their recommended findings were as follows: (1) Prioritize inclusive, sustainable approaches and stronger regional cooperation; (2) Take policy actions that are grounded in human rights, focus on the vulnerable and empower women and girls; (3) Enhance social protections, provide quality education, advance gender equality, accelerate the transition to inclusive and green economies, and prioritize nature-based solutions for climate mitigation and adaptation; (4) invest in sustainable and greener pathways, balancing short-term recovery against long-term sustainability goals; (5) Encourage partnerships, humanitarian support and regional initiatives, including in education, gender, digital connectivity and the environment; (6) Strengthen ties between national, subregional and regional forums to increase subregional cooperation and joint strategies for challenges and risks; (7) Facilitate voluntary national reviews to strengthen national ownership and improve coordination within governments for better policy integration; (8) Promote peer learning, which is critical to the 2030 Agenda's implementation; (9) Support the collective work of the United Nations Development System.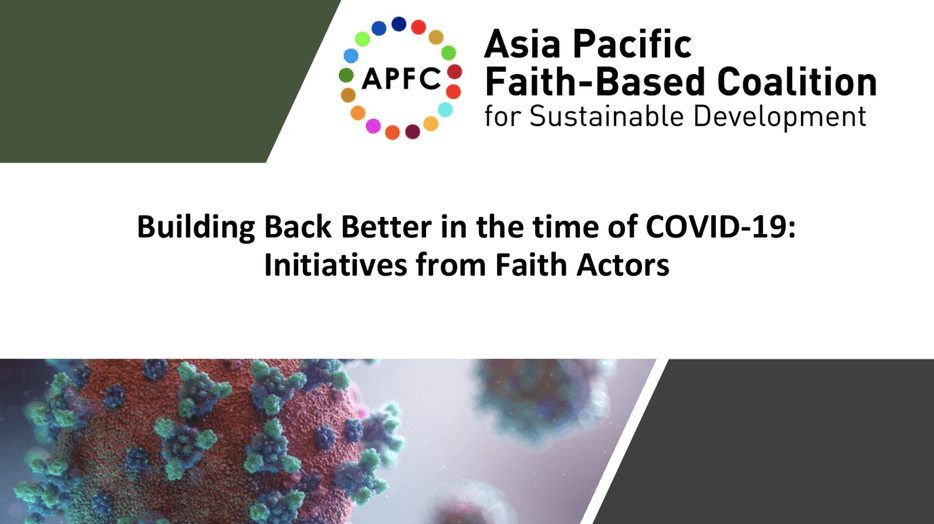 APFC organized an official virtual side event to APFSD that took place on 30 March. "Building Back Better in the Time of Covid-19: Interventions from Faith Actors" showcased the work of faith actors in achieving the SDGs. Alwynn Javier of ACT Alliance, the current APFC Convenor, gave an overview of faith actors implementing the SDGs, followed by the representatives of Envisions Institute of Development (EID) and EcoSikh presenting their projects and findings.

Rudrajit Das, Communication for Development Chief at UNICEF Nepal, shared his experience working with faith-based partners and emphasized the importance of their roles and contributions. In closing, Hiro Sakurai of SGI and former convenor of APFC noted APFC's commitment to facilitating further collaboration among faith actors and with other partners on shared goals.

From 19–21 March 2022, over 600 people under age 30 attended the APFSD Youth Forum, which was held online and in person in Bangkok, Thailand. Participants, including SGI youth representatives, originated from over 33 countries across Asia and the Pacific region.

The Asian Pacific Resource and Research Centre for Women (ARROW) organized the event, along with regional youth networks including YouthLEAD, YPEER Asia-Pacific, and others.

During plenary sessions, panel discussions and dialogue sessions, participants discussed COVID-19's impact on youth and their progress and challenges on this year's SDG goals. In the opening remarks, Sivananthi Thanenthiran, Executive Director of ARROW, stated, "For the past two years of the pandemic, very little attention was paid to young people," and she promoted creating a more participatory system and opportunities for young people. Juliet Nicole Braslow, Economic Affairs Officer of the United Nations Economic and Social Commission for Asia and the Pacific (UNESCAP), presented the analysis of the SDG Partnership Report, sharing that the pandemic has exacerbated pre-existing vulnerabilities. She then underscored youth wellbeing, participation, and empowerment as key drivers of sustainable development.

Each day of the three-day forum concluded with a dialogue session between participants in country and sub-regional groups. Harumi Endo of SGI and Munkh-Erdene Davaajav of YouthLEAD Mongolia co-moderated the discussion in the East, Northeast Asia and Central Asia subregional group where approximately 25 young people from China, Hong Kong, Macau, Japan, Georgia, Mongolia and Tajikistan discussed challenges that they and their peers face, such as mental health issues and lack of access to quality education, and proposed their recommendations for better solutions.

Issues and recommendations voiced throughout the event were compiled into a comprehensive document, "APFSD Youth Call to Action 2022," which youth delegates presented at the APFSD and ECOSOC Youth Forum. The Youth Call to Action will also be presented at HLPF in July.