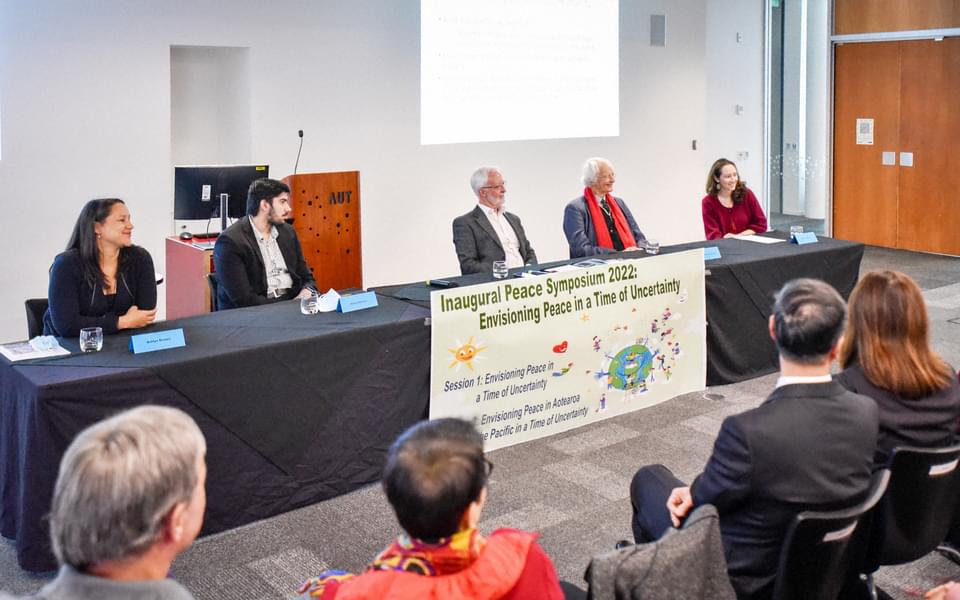 On 6 August 2022, SGI New Zealand (SGINZ) and Te Ao o te Rongomaraeroa, the National Centre for Peace and Conflict Studies (NCPCS) at the University of Otago, co-hosted a Peace Symposium at Auckland University of Technology (AUT) on the theme of "Envisioning Peace in a Time of Uncertainty."

Three young peace activists spoke during the first panel discussion, which was chaired by Dr. Andrew Codling, Former Head of the Vice Chancellor's Office of AUT. Haris Murtaza, Co-Chair of the National Islamic Youth Association, shared his hope that his generation will build an inclusive society where future generations feel safe. Ashlyn Baines, Youth Programmes Coordinator of The Peace Foundation, introduced how she and her colleagues provide peace and disarmament programs with local youth, and she stressed that even small actions can make a difference in society. Julia Guthrey, Youth Representative of SGINZ, agreed that grassroots activities for peace affect the world at large and stated that mutual understanding and support are important in times of uncertainty, drawing on themes from SGI President Daisaku Ikeda's 2022 peace proposal.
Following this panel, Founding Director of the National Centre for Peace and Conflict Studies and Director of the Toda Peace Institute Kevin Clements gave a lecture on "Post-Ukraine Challenges to the Future of Nuclear Disarmament," which was followed by a Q&A session. Professor Clements thanked the youth panelists and concluded that peace is a never-ending process inspired by our love of life, humanity and the planet.
Chaired by Dr. Jenny Te-Paa Daniel, Interim Director of NCPCS, the second panel discussion involved three scholars and focused more specifically on peace in New Zealand and the Pacific region. Professor Malakai Koloamatangi of the Ministry for Pacific Peoples spoke on climate change and challenges to the Pacific, noting that climate solutions can be found in local cultures and indigenous approaches in the region. Anahera Gildea (Ngāti Tukorehe), SGINZ member and PhD Candidate in the International Institute of Modern Letters at Te Herenga Waka—Victoria University of Wellington, presented her studies, which examine decolonization and storytelling as a transformative practice toward peace. Finally, Dr. SungYong Lee of NCPCS shared the results of his research on how external actors can generate more mutually respectful and inclusive engagement in peace activities with local actors.