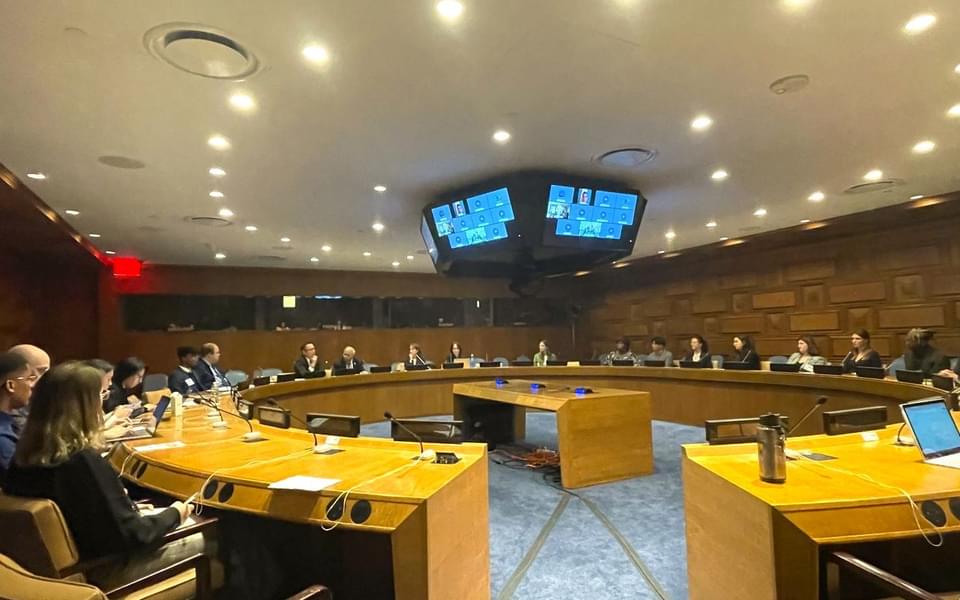 On 11 October 2022, the Nuclear Age Peace Foundation (NAPF), Reverse The Trend: Save Our People, Save Our Planet (RTT), Soka Gakkai International (SGI) and the Permanent Mission of Kiribati to the UN sponsored a hybrid side event to the UN General Assembly First Committee's session.
Over the past few decades, humanitarian disarmament has become a highly effective and firmly established means of addressing the adverse impacts of weapons. This people-centered approach to disarmament focuses on preventing and remediating human suffering and environmental harm, rather than focusing on advancing national security. It is spearheaded by civil society campaigns that operate in partnership with states and international organizations. Humanitarian disarmament was central to the negotiations that led to the adoption of the Treaty on the Prohibition of Nuclear Weapons (TPNW). Furthermore, education on this approach plays a critical role in universalizing the norms of the TPNW. Against this backdrop, the side event explored the theme of "Humanitarian Disarmament Education."
As Chair of the side event, Ivana Hughes of NAPF started by stressing the role of disarmament education as a powerful tool to achieving a just and peaceful world. Hughes emphasized that the narrative of nuclear destruction did not simply end with Hiroshima and Nagasaki in 1945; its legacy is prevalent in many parts of the globe such as Southwestern United States, Kiribati, French Polynesia and Algeria.
Ambassador Teburoro Tito of Kiribati reinforced this idea in his statement, in which he stressed that damages caused by nuclear weapons testing remain prevalent and continue to impact affected communities in his country. He passionately addressed the youth in attendance, encouraging them to continue their disarmament education and help in the global effort to eliminate nuclear weapons. He compared the struggle for nuclear disarmament to "the greatest love story to save mankind."
Aziz Azril, Deputy Permanent Representative of Malaysia to the UN, discussed the universalization of the TPNW and the need to shift the rhetoric associated with nuclear weapons. In this context, he reiterated previous statements on the importance of education, contending that change will only happen through public pressure and shifts in political discussions.
Anna Ikeda of SGI echoed Azril's point and shared elements of the working paper on "Including Peace and Disarmament Education in Implementing Universalization Obligations Under Article 12," which SGI co-authored with the International Disarmament Institute of Pace University and submitted to the first meeting of States Parties to the TPNW. She also stressed that disarmament education must be centered around our shared humanity—that the stories of survivors remind us not only of their tremendous suffering and the inhumane nature of nuclear weapons, but also survivors' resilience and strength. Such education also must be intersectional, as racism, militarism, patriarchy, classism, ableism and other forms of injustices all share the same roots of disrespecting the dignity of everyone.
Mary Dickson, a Nevada Test Site downwinder, referred to herself and others affected by nuclear weapons testing as "unaccounted victims of the Cold War." She shared her harrowing experience of losing a number of friends and family members to cancers and autoimmune disorders. Dickson, herself a survivor of thyroid cancer, explained that the survivors of the downwinders and their descendants are disappointed by the United States government's lack of accountability and refusal to acknowledge the harm caused by nuclear weapons testing.
Christian Ciobanu of NAPF and RTT, Jeremiah Williams of Pace University and Alicia Sanders-Zakre of ICAN also addressed the theme of humanitarian disarmament education through presentations on various projects and personal experiences.