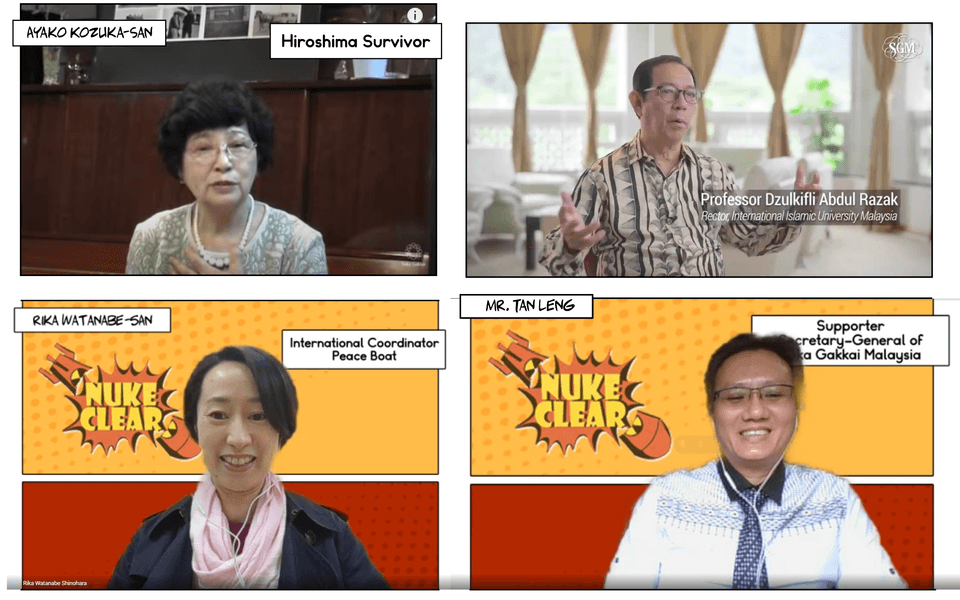 From 10 March to 14 April 2021, Soka Gakkai Malaysia (SGM), its initiative Rakan TPNW and a dance organization, Tarinao, supported the "Nuke-Clear" campaign, a month-long online event featuring "Youth against Nuke." The event was organized by second-year students of Bachelor of Public Relations from Tunku Abdul Rahman University College (TARUC) in Kuala Lumpur.
On 24 March, SGM representatives organized an online sharing session for the students and advisers based on the "Everything You Treasure – For a World Free from Nuclear Weapons" exhibition created by ICAN and SGI. This session was held to increase their awareness and knowledge of the destruction caused by nuclear weapons and to empower youth through understanding that peace depends on the efforts of each individual.
From 6 to 8 April, the "Nuke-Clear" campaign held a series of programs and activity highlights. On April 6, Professor Lee Sze Wei, President of TARUC, delivered a speech, stating that even though Malaysia does not possess nuclear weapons, all educators, students and members of society are responsible for educating youth and future generations about the importance of anti-nuclear activities.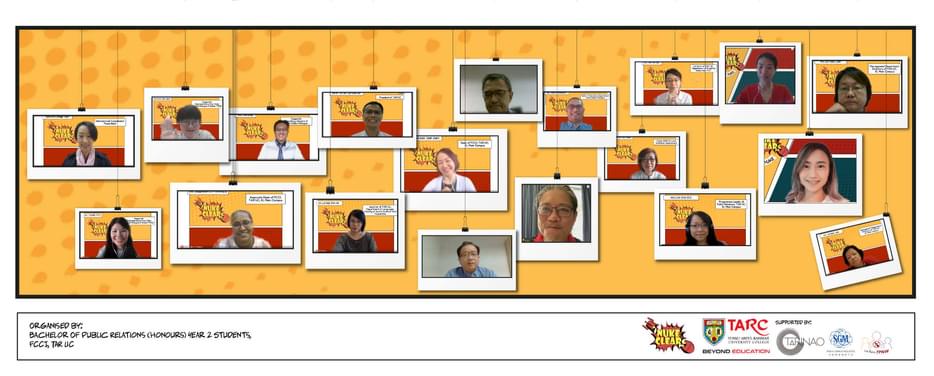 On the same day, Tan Leng, Secretary-General of SGM, and Rika Watanabe, International Coordinator of Peace Boat, shared video clips at a sharing session featuring Ayako Kozuka, a survivor of the atomic bombing of Hiroshima, and Professor Emeritus Dzulkifli Abdul Razak, Rector of International Islamic University Malaysia (IIUM) and the son of a Malaysian survivor of the Hiroshima bombing. Through their video testimonies, the audience was able to listen to their stories, which emphasized the importance of the Treaty on the Prohibition of Nuclear Weapons (TPNW). Between 6 and 8 April, the agenda also included dance and music performances integrated with anti-nuclear and peace messages by young local dancers and musicians.
From 6 to 14 April, the campaign also made its 3D virtual exhibition available online. The exhibition showcased some of the historic artworks from the Hiroshima Peace Memorial Museum and several panels of the "Everything You Treasure" exhibition.
Yeow Lai Chee, adviser of the "Nuke-Clear" campaign, shared that seeing many young people working together for nuclear disarmament had encouraged her to go further in the movement to abolish nuclear weapons. Jessmyn Yong, Student-Director of the "Nuke-Clear" campaign, stated, "Our initiative may start off small, but I am very proud of the power of youth as change makers."