In preparation for the sixty-sixth session of the Commission on the Status of Women (CSW66), which will address gender equality in the context of climate change, environmental and disaster risk reduction, the monthly meetings of the NGO Committee on the Status of Women, New York (NGO CSW/NY) are focusing on the climate crisis as a crosscutting theme.
On 21 October 2021, which coincided with the annual Security Council Open Debate on the Women Peace and Security (WPS) agenda, Ivy Koek of SGI and Vice Chair of NGO CSW/NY organized and moderated "How Does the Climate Crisis Impact Peace and Security for Women and Youth?," a virtual event attended by over 200 people. To open the meeting, Koek referenced a policy brief by the Women's International League to Peace and Freedom, which speaks directly to the intersections of peace, climate and women: "Sustainability and peace go hand in hand. A just, fair and livable future will not be possible without a radical transformation of society and the centering of feminist values, and feminist peace into climate action is essential to the healing of our planet and the possibility of a sustainable future."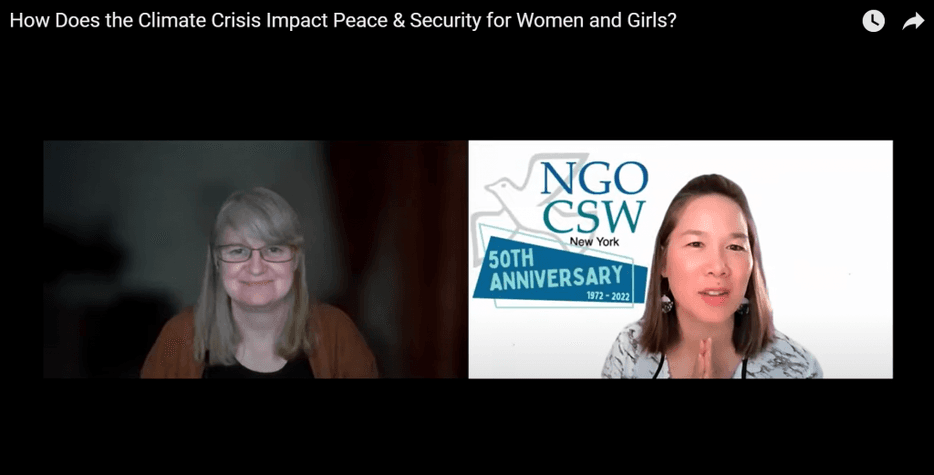 Event speakers included Fleur Newman, Action Empowerment Unit Lead of the United Nations Framework Convention on Climate Change (UNFCCC); Susan M. Kath, Director of the Environment Program for the Cyrus R. Vance Center for International Justice; and Kehkashan Basu, Founder-President of the Green Hope Foundation and Co-lead for the Generation Equality Forum Action Coalition on Feminist Action for Climate Justice. Newman spoke of climate change's challenges and its often paralyzing impact on every aspect of our communities. She posited that each person has to relate it to their own context and that individual actions can create a radical shift. Noting that security and climate are pervasive and interlinked to all, Newman also stressed that we must acknowledge the need for a system change. Next, Kath spoke of the landmark step the Human Rights Council made earlier in the month in formally declaring the Human Right to a Healthy Environment.