In 2021, a learning engagement process related to the response of faith groups to the human and social impact of the pandemic was launched by the Joint Learning Initiative on Faith and Local Communities (JLI).

JLI, a network of academics and faith-based organizations (FBOs), wanted to learn from the many experiences and lessons from faith actors during the pandemic that they noticed were not being documented. In order to address this, JLI partnered with eight faith actors, including SGI, to conduct a study on what worked and what remains to be done in terms of faith responses to COVID-19 to support better preparedness and improve collaborations in the future.

The organizations that took part in this process were: World Evangelical Alliance, World Council of Churches, Anglican Alliance, Buddhist Tzu Chi Foundation, Islamic Relief Worldwide, Humanitarian Forum Indonesia, SGI, and Corus International with the Africa Christian Health Associations Platform.

Various types of documents and videos, including official documents and notes of meetings where COVID responses were discussed, were first collected from each FBO. Interviews were conducted, followed by a group discussion among the eight organizations.

SGI highlighted the response of Soka Gakkai in Japan, that included continuous encouragement to its members, making efforts to spread accurate information through its own publications and social media, and assistance with both online communication tools and vaccination appointments for older persons.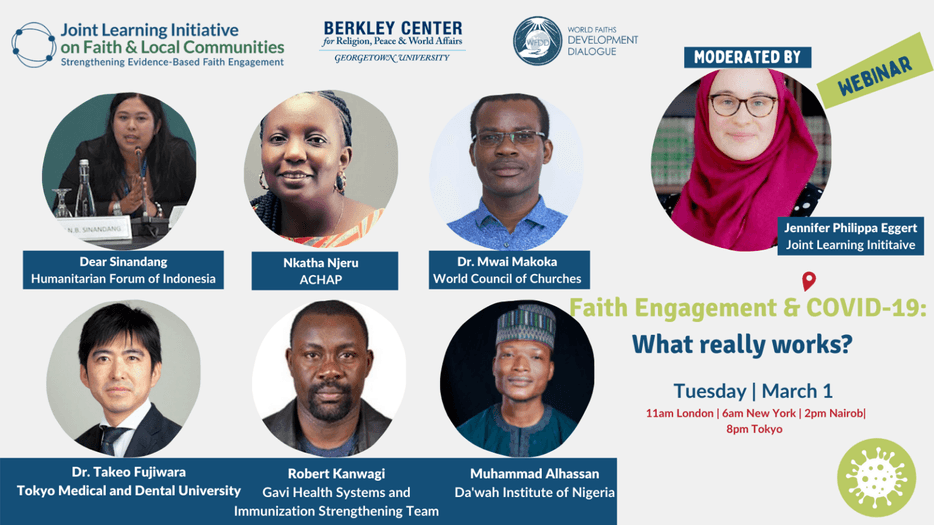 On 1 March 2022, the outcome report was launched and a commemorative webinar held on "Faith Engagement & COVID-19: What Really Works?" At the webinar, Dear Sinandang from Humanitarian Forum Indonesia encouraged participants to be more courageous in forming more diverse partnerships. She spoke about the complementary role that faith actors can play to government responses and the value of diverse, interfaith partnerships.

Dr. Takeo Fujiwara, Professor at Tokyo Medical and Dental University, spoke about his experience of giving professional advice to Soka Gakkai in Japan in terms of its response to COVID-19. He affirmed the value of faith actors' contributions, especially in bringing unity, cultivating empathy and tackling misinformation.

Muhammad Alhassan from the Da'wah Institute of Nigeria mentioned in concluding comments that he had seen significant growth in proactive local partnerships between faith actors and secular agencies during the pandemic, and that there is a need to sustain long-term relationships that can be drawn on in a crisis.