The first UN Special Rapporteur on the protection of human rights in the context of climate change was appointed by the Human Rights Council at its 49th session (HRC49) in March 2022. Dr. Ian Fry holds both Australian and Tuvalu nationalities. He is an international environmental law and policy expert who has actively participated in climate negotiations as part of the Small Islands Developing States' (SIDS) delegations, such as Tuvalu and the Solomon Islands. He also teaches at the Australian National University. Learn more about Dr. Fry or consult his application for the Special Rapporteur's position.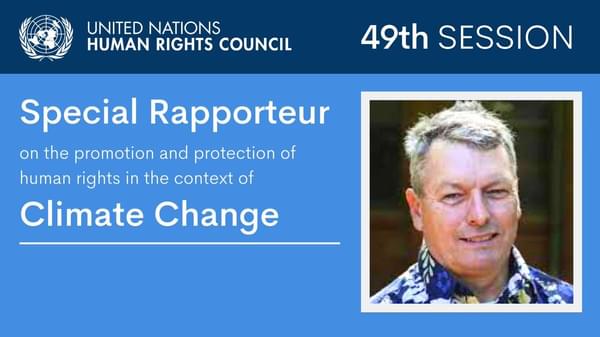 This is an overdue but welcome step, just as the latest report of the Intergovernmental Panel on Climate Change (IPCC) clearly shows that we are running out of time. Since 2010, civil society and Indigenous Peoples' organizations have asked the HRC to establish such a position. SGI has supported advocacy efforts in Geneva as part of the Geneva Interfaith Forum (GIF) and the Geneva Climate Change Consultation Group (GeCCco). Alexandra M Goossens-Ishii of SGI joined partners in welcoming this appointment, expressing hope that this new mandate will strengthen the ability of the UN to respond to climate-induced harms and increase accountability.
In October 2021, Resolution 48/14 was adopted with an overwhelming majority during HRC48, creating a new mandate of a UN Special Rapporteur on the promotion and protection of human rights in the context of climate change. The resolution was championed by the Marshall Islands and other most vulnerable countries, especially SIDS, and received support from States across all regions.
The new Special Rapporteur was appointed for 3 years (renewable once) and will deliver an annual report to the HRC and to the UN General Assembly. He will conduct two country visits annually, consider individual communications, and is encouraged to work closely with other UN Special Rapporteurs. His first report is expected in June and will be presented at HRC50 (13 June to 8 July 2022).