SGI joined 7 other faith-based partners, UN Alliance of Civilizations (UNAOC), UN Office on Genocide Prevention and the Responsibility to Protect and the UN Population Fund (UNFPA) to co-organize the 8th Annual Symposium on the Role of Religion and Faith-Based Organizations in International Affairs,held on 25 January 2022. This year's theme was on "Mobilizing Moral Influence and Governance to End the Systemic Injustices of Racism, the legacy of Colonialism and Slavery." The symposium was held online for the second year. Ivy Koek of SGI was part of the organizing team.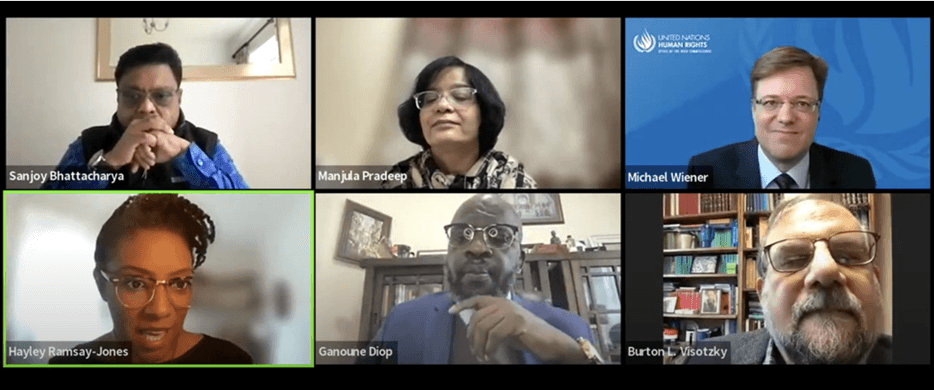 Hayley Ramsay-Jones of SGI spoke about SGI's intersectional approach to disarmament on the panel about "Deepening understanding of how pernicious and all-encompassing racism, and the legacy of colonialism and slavery remain today." She shared how our beliefs align with this approach, stating: "Buddhism is concerned with equality, justice and human security, we believe that at the heart of all forms of oppression is the radical negation of others—of their humanity, their dignity and their equal right to happiness and life." And "working to unmask systems of oppression that deny people's dignity is inherent in our philosophy" adding that she believes this is true of most religions as well.
The event was attended by a global audience of over 400. Opening panelists included Alice Wairimu Nderitu, Special Adviser of the UN Secretary-General on the Prevention of Genocide, Miguel Angel Moratinos, High Representative for the UNAOC, Diene Keita, UNFPA Deputy Executive Director for Programmes, Azza Karam, Religions for Peace General Secretary, and Rudelmar Bueno De Faria, ACT Alliance Secretary General. One speaker pointed out the need for each person to be accountable and that addressing the issues of discrimination and injustice requires self-reflection. It is from the individual that change begins.