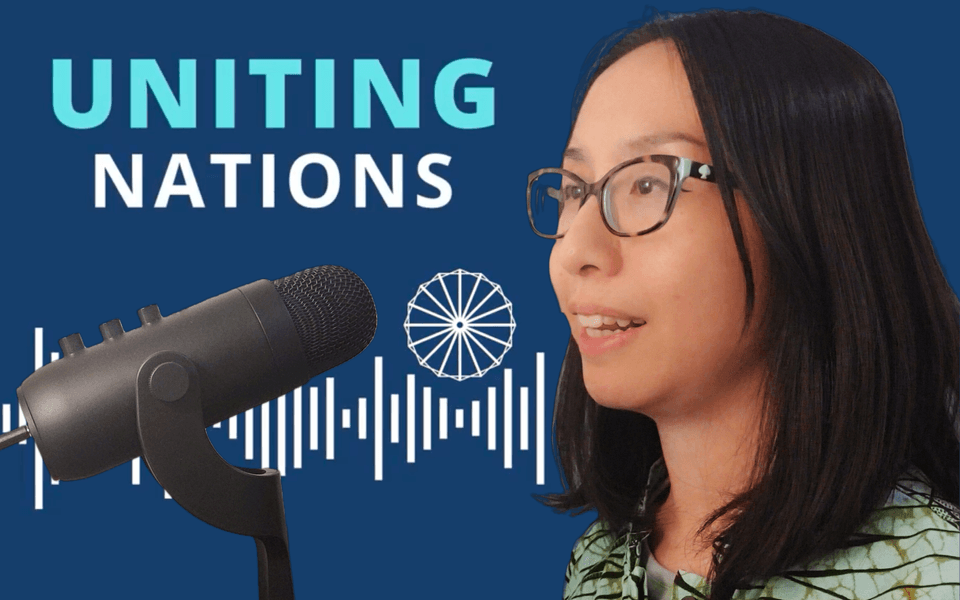 On 22 January 2023, a new podcast series Uniting Nations was launched, with the first episode focusing on the second anniversary of the entry into force of the Treaty on the Prohibition of Nuclear Weapons (TPNW). Jointly produced with The Metta Center for Nonviolence, the podcast explores the intersection of nonviolence and the goals of the United Nations. Anna Ikeda of SGI serves as the show's co-host, together with Stephanie Van Hook, Executive Director of The Metta Center.
For the podcast's first episode, Ikeda and Van Hook hosted Mary Yelenick, Main NGO Representative at the United Nations in New York for Pax Christi International, the global Catholic movement for peace and nonviolence. Yelenick discussed the significance of the TPNW and of focusing on the humanitarian consequences of nuclear weapons. "One thing we don't do sufficiently is show the consequences [of nuclear weapons]," Yelenick said. "Once you see an image, it's with you. And I think that makes a better advocate."
Despite pushback by nuclear armed states and their allies, Yelenick sees progress being made with the TPNW. She reminded listeners that the UN is nothing more than its members, but that the UN community includes NGOs, "who are the people." Changes, therefore, have to come from us, not the formal institution, she urged.
The podcast's second episode, released in February 2023, featured John Reuwer from World BEYOND War. Reuwer discussed the Zaporizhzhya Protection Project, a proposal to establish an Unarmed Civilian Protection team to protect the Zaporizhzhya nuclear power plant in Ukraine, which would support the work of the UN International Atomic Energy Agency.
Ikeda and Van Hook hope to produce at least one episode of Uniting Nations every month, covering different topics related to the UN's work and highlighting diverse voices. Stay tuned by watching the show's page on The Metta Center's website: https://www.mettacenter.org/unitingnations.