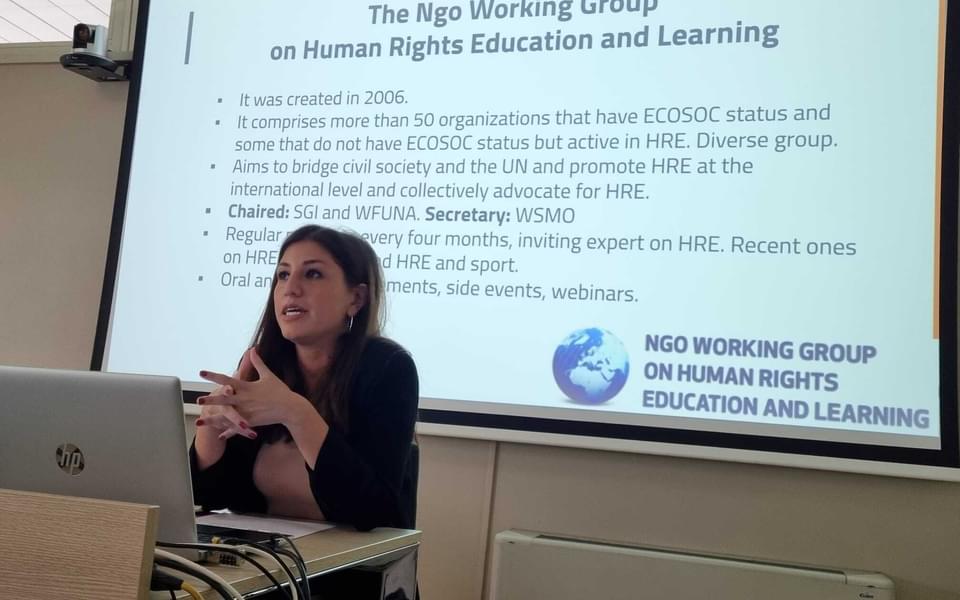 A conference took place in Turin, Italy from 11–13 April 2022 titled, "The Art of Learning, Equality, Dignity, Democracy: Forum on the present and future of citizenship and human rights education in Europe with young people." The Council of Europe Education and its youth sectors and the Italian Department for Youth Policy and the Universal Civic Service co-organized the event, in cooperation with the Ministry of Foreign Affairs and International Cooperation, Amnesty International, the City of Turin, the National Youth Council of Italy and the European Youth Forum.

Elisa Gazzotti, representing SGI and the NGO Working Group on Human Rights Education and Learning (WG HREL), participated in the conference together with about 300 human rights educators, advocates, representatives of civil society, governments and international organizations.

While various key points were discussed, participants highlighted the importance of "retelling the story of human rights in ways that are important to the local context" and looking "for people [who] are invisible in our work, and [to] teach and learn about the rights of the people." A young Italian participant shared, "Institutions listen to us—young people—only when we act with anger. But we should always be listened to."

In addition to the conference, the UN Office of the High Commissioner for Human Rights (OHCHR) organized a workshop on 12 April titled "Good Practices in Human Rights Education: Global and National Perspectives." Gazzotti was invited to present the work of the NGO WG on HREL during this workshop where she shared about the group's purpose, as well as its past activities around advocacy on human rights education for young people at the UN Human Rights Council. Paulina Tandiono of OHCHR also presented, sharing the "Stories of Young Human Rights Educators," a multilingual, multimedia educational tool jointly developed by SGI, Amnesty International and OHCHR.