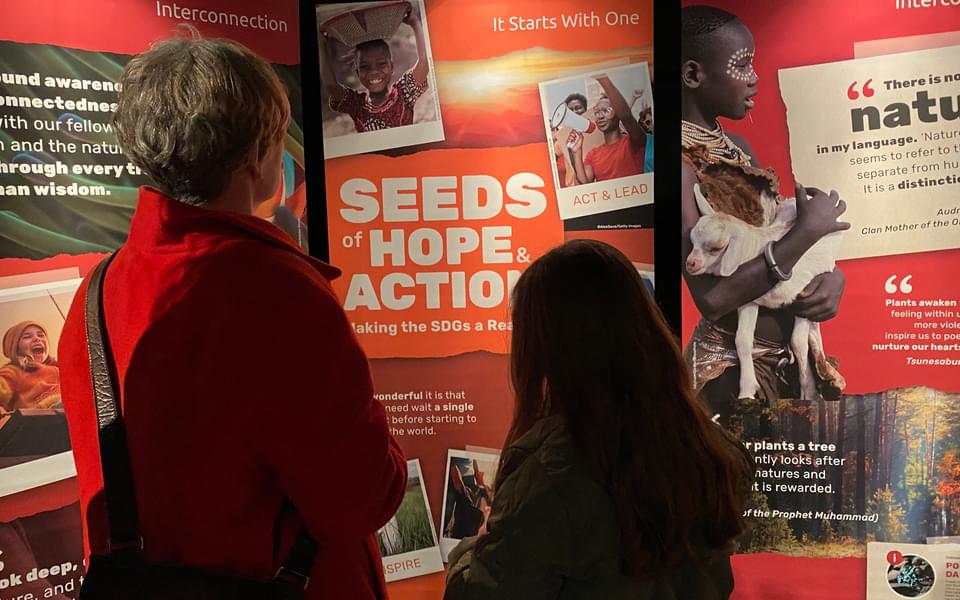 The 25-panel Seeds of Hope & Action (SOHA) exhibition, created by the SGI in partnership with the Earth Charter International, introduces a positive vision of sustainable living that can contribute to the realization of the Sustainable Development Goals (SDGs). It features panels portraying six individuals from South Sudan to Lebanon and Brazil who have successfully initiated action for change.

The exhibition stresses humanity's interconnectedness with the natural world and the need to broaden our sphere of compassion. It also encourages viewers to overcome feelings of powerlessness and is a resource for the UNESCO initiative ESD for 2030 (Education for Sustainable Development: Towards achieving the SDGs).
Online launch events were held in February 2021 in English and Spanish hosted by the Earth Charter International and the SGI, and since then, the exhibition has been shown in virtual and physical form in several places around the world.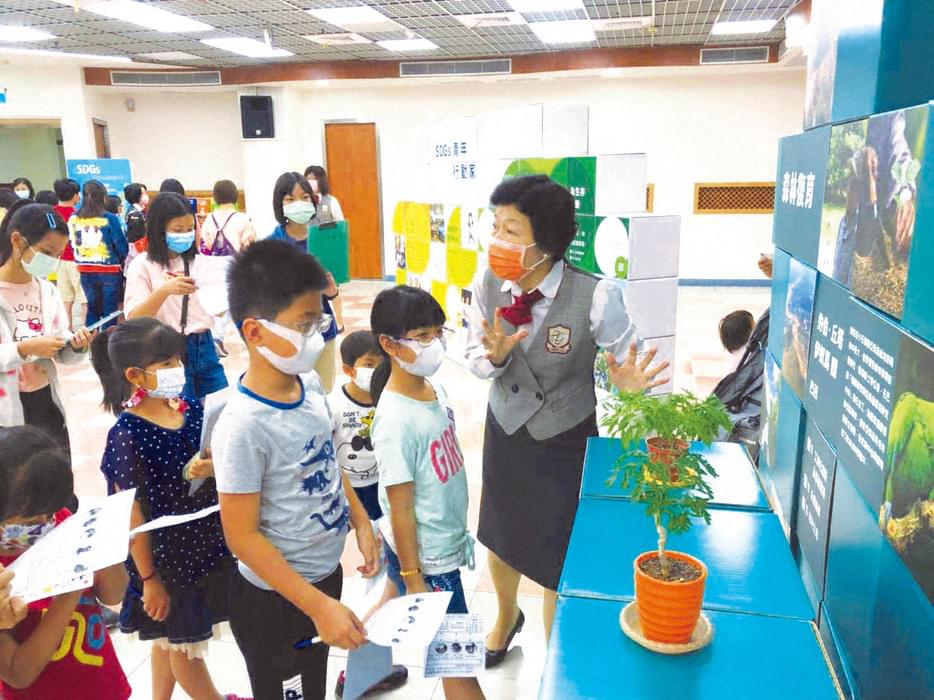 Taiwan Soka Association (TSA) adapted the SOHA exhibition to include an interactive section where viewers can learn how to implement the SDGs in their daily lives. Titled "Soka SDGs × Seeds of Hope and Action," this exhibition has been shown at various venues including elementary and junior high schools and universities as well as TSA centers. On 26 April 2021, the exhibition was launched at National Taipei University (NTPU). NTPU President Lee Chen-Jai joined the event, and Eugene Chien, chairman of the Taiwan Institute for Sustainable Energy and former foreign minister, gave a lecture on the SDGs. As of March 2022, the exhibition has been shown in physical form in more than 130 schools and 15 universities and has been viewed by more than 200,000 people in Taiwan.

In India, Symbiosis Law School in Pune collaborated with Bharat Soka Gakkai (BSG) to show the Seeds of Hope and Action exhibition online and held a panel discussion with young climate activists. The event was attended by 200 people. On 14 September 2021, the exhibition was held at Whistling Woods International film school in Mumbai where it was viewed by some 300 students. The panel discussion on the SDGs that followed included environmental activist Bittu Sahgal, musician and educator Dee Wood, and, from BSG, Vikas Verma, Regional Head (North) for UNDP India. As of March 2022, the exhibition has been held in 21 schools and universities and been viewed online by around 5,000 participants across India.
Nandita Shah, who saw the online showing at Narsee Monjee Institute of Management Studies in Mumbai, commented: "The spirit of 'The Power of One' really resonated with me throughout the session. It showed beautifully how important it is for us humans to protect nature, live with peace and kindness, and do whatever we can to create equal opportunities for all. The 17 SDGs are formed with the spirit to leave no one behind, and I was really inspired by that. This session has motivated me to put in my all and just take the first step forward to create a change. The rest of the path will clear itself."
The SOHA exhibition was also shown in physical form at Websters Theatre in Glasgow, UK, during the COP26 climate conference, where it provided a colorful backdrop to a series of panel discussions on climate justice. Kenyan youth climate activist Elizabeth Wathuti, founder of the Green Generation Initiative and Head of Campaigns at the Wangari Maathai Foundation, spoke at the exhibition launch on 1 November.
SOHA has also been shown in Uruguay and in March 2022, the Soka Institute of the Amazon, together with Brazil SGI, launched a new, more interactive online version in Portuguese, with English and Spanish versions also in the pipeline.